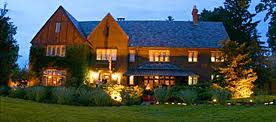 Just eight miles south of Lansing along M-99 and north of Eaton Rapids you will find the lovely English Inn. Originally built in 1927 as a lavish English Tudor-style home for one of Lansings Oldsmobile automobile barons, it now serves as a gracious bed and breakfast. The home has an old-world feel complete with an English pub in the lower level and a large sized dining area that also serves as an upscale restaurant. Additional banquet space was added to the back and can accommodate a good-sized wedding or event.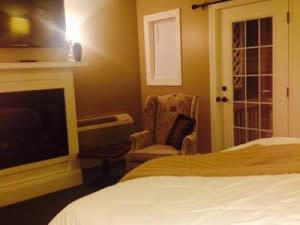 The grounds are expansive-15 acres that hug the Grand River, giving plenty of opportunities for strolls among the gardens or tea on the patio with a lovely view. Guests can stay in one of the six beautiful rooms in the main house. With names like The Windsor, The Somerset and The Brighton, you can re-live a period of elegance and sophistication. Or book a room in one of the outlying cottages. If you have a small group, you can rent the Honeysuckle Cottage that has three suites with a common living area and kitchen. This is popular for wedding parties and family retreats.
This year the owners have built the Croquet Cottages, 6 beautifully appointed rooms complete with whirlpools, gas fireplaces and small decks that overlook(can you guess???) the croquet court. These are perfect for those patrons who may eschew the social aspect of a bed and breakfast and want a bit more privacy and a more modern flair. You can check into aprivate room and then headover to the inn for a sumptuous meal, take a stroll on the grounds, play a game of croquet and then retire to the pub for drink. Accommodation options abound. The English Inn website is helpful, explaining the amenities and a nice description of each of the rooms.
I would be remiss not to mention the excellence of the restaurant. With an award winning wine menu, and sumptuous menu items, the English Inn is a dining destination in itself. Treat yourself to a taste of luxury. And as you drive away, youll be looking forward to and planning your next visit.