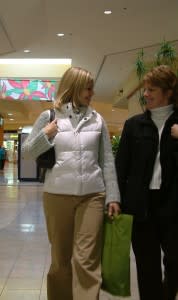 When the weather gets cold, people tend to start thinking that its hibernation time. Too cold to go to the park or the beach? Must be time to curl up in bed until spring, right? Wrong. Cold weather temps bring along with them indoor entertainment options that are so fun you wont really even miss hot weather. I'm talking about museums, theater, galleries and indoor fun stuff that will please your eyes and feed your brain.
Start off with the Michigan Women's Historical Center and a cool exhibit they have that goes over the Women's Role in the Civil War. It's also Grandparents month at the Impression 5 Science Center, so when Grandma and Grandpa bring the grandkids the Grandparents get in for free. Head over to the Michigan Historical Museum and see the special exhibit, "Conceived in Liberty" - should be cool. Then you've got performance-palooza! At Wharton coming up you've got the Nutcracker, Annie and Manheim Steamroller - all big holiday performances. Then also you've got Cinderella at the Riverwalk and Miracle on South Division Street at the Williamston Theater. If you're a theater buff, you're in for some fun. Prefer the Hollywood scene? Winter is also a great time for movies, so thrill to your hearts content at NCG Eastwood or the Celebration Cinema, featuring IMAX. Looking for a different kind of movie experience? You've got to try studio C!
Then there are tons of holiday events going on both now, and soon! Check out Holidays in Mason on November 28th, the Wonderland of Lights at Potter Park Zoo as well as the Holiday Market in Old town.
This is also the time of year for serious shoppers. Of course frequent the Eastwood Towne Center, the Meridian Mall, Lansing Mall, Frandor but dont forget to buy local at the cool shops in downtown Lansing, East Lansing and Old Town.
Yep, its cold outside, but in Greater Lansing, the great indoors are heating up with fun! Want more info on all these options! Dig deeper into your new favorite website (duh) this one - lansing.org