Easter Dinner
Don't feel like cooking for the family for Easter? We've found Greater Lansing restaurants willing to do the work for you. Check the list below and get your pre-order in ASAP. Many have to be ordered in advance!
Good Truckin' Diner
1107 S. Washington Ave., Lansing  |  (517) 253-7961
Easter brunch kits available! Call ahead only, must have order placed and paid for by Thursday, April 9th at 2 pm. Price for kit- $9/person, 4 person minimum. Al a carte available.
Kits will include:
Baked ham with orange glaze, sausage patties and bacon strips
Carrot cake French toast bake
Fresh baked rolls
The signature crack cake (casserole style)
Quiche with bacon, asparagus, pesto, parmesan and roasted tomato hollandaise
Vegan or vegetarian? Contact Good Truckin' Diner for options!
In addition to our Easter brunch kits, Good Truckin' will be offering half gallons of orange juice and neighbors Sleepwalker will have howlers of champagne for $10! Pickup for champagne will be the same day as food pick up directly next door to the diner.
2975 Preyde Blvd, Lansing  |  (517) 482-3474

Mitchell's is offering their family style meals to help you celebrate Easter with loved ones. You must pre-order by Friday, April 10th! Phone 517-482-3474. Ask About Chef's Daily Features and "Happy Hour at Home" offerings.
Family meals serve four people and include featured salad of the day, sourdough bread and one slice each of carrot cake and key lime pie for sharing. For fastest curbside service, please pre-order by 4 pm if possible.
Family Fish & Chips - $49
Family Shrimp Scampi Pasta - $49
Family Blackened Chicken Pasta - $49
Family Cedar Roasted Salmon - $55
Family Maryland Style Crab Cakes - $59
Family Crab Stuffed Salmon - $59
Family Lobster Tails - $89

1020 Trowbridge Rd., East Lansing  |  (517) 679-3982
Gigi's will be opening Thursday-Saturday from 10 am – 6 pm for Easter orders. Take-out or curbside pick-up only.  Phone ahead to order. Find the menu here.
 
Red Lobster
3130 E. Saginaw St., Lansing  |   (517) 351-0610  |  Order online
Family Meal Deals serve four people and include offerings such as popcorn shrimp, crab linguini Alfredo, salmon, sirloin and more! Spend $30 or more and get free dessert. (Through  April 12.) See website for complete list of meals and to place your order.
Popcorn shrimp - Bite-sized popcorn shrimp served with cocktail sauce, two family-size sides and eight Cheddar Bay Biscuits®. Serves 4. $30.99
Crab Linguini Alfredo - A family-size serving of Crab Linguini Alfredo served with eight Cheddar Bay Biscuits®. $36.99
Salmon - Four pieces of Atlantic Salmon served with two family-sized sides and eight Cheddar Bay Biscuits®. Serves 4 $39.99.
Sirloin - Four peppercorn-seasoned 7 oz. sirloins served with two family-size sides and eight Cheddar Bay Biscuits®. Serves 4. $45.99
Lil G's
2459 Ontario Dr, St Johns  |  (989) 545-7090  |  Menu  |  See Facebook page
Easter Dinner Take & Bake -  Feeds 4-6 people. $60
Includes Ham (Kosher alternative are available), 8x8 pan of Lasagna, Cheesy Potatoes, Green Bean Casserole, Salad, Bread and a 8x8 pan of Cheesecake (alternative option available) Add ons: Deviled Eggs, Potato Salad
Call to Pre-Order (and pre-pay) by Thursday, April 9th.
For gluten free households they can make a gluten free lasagna and bread for $5 more.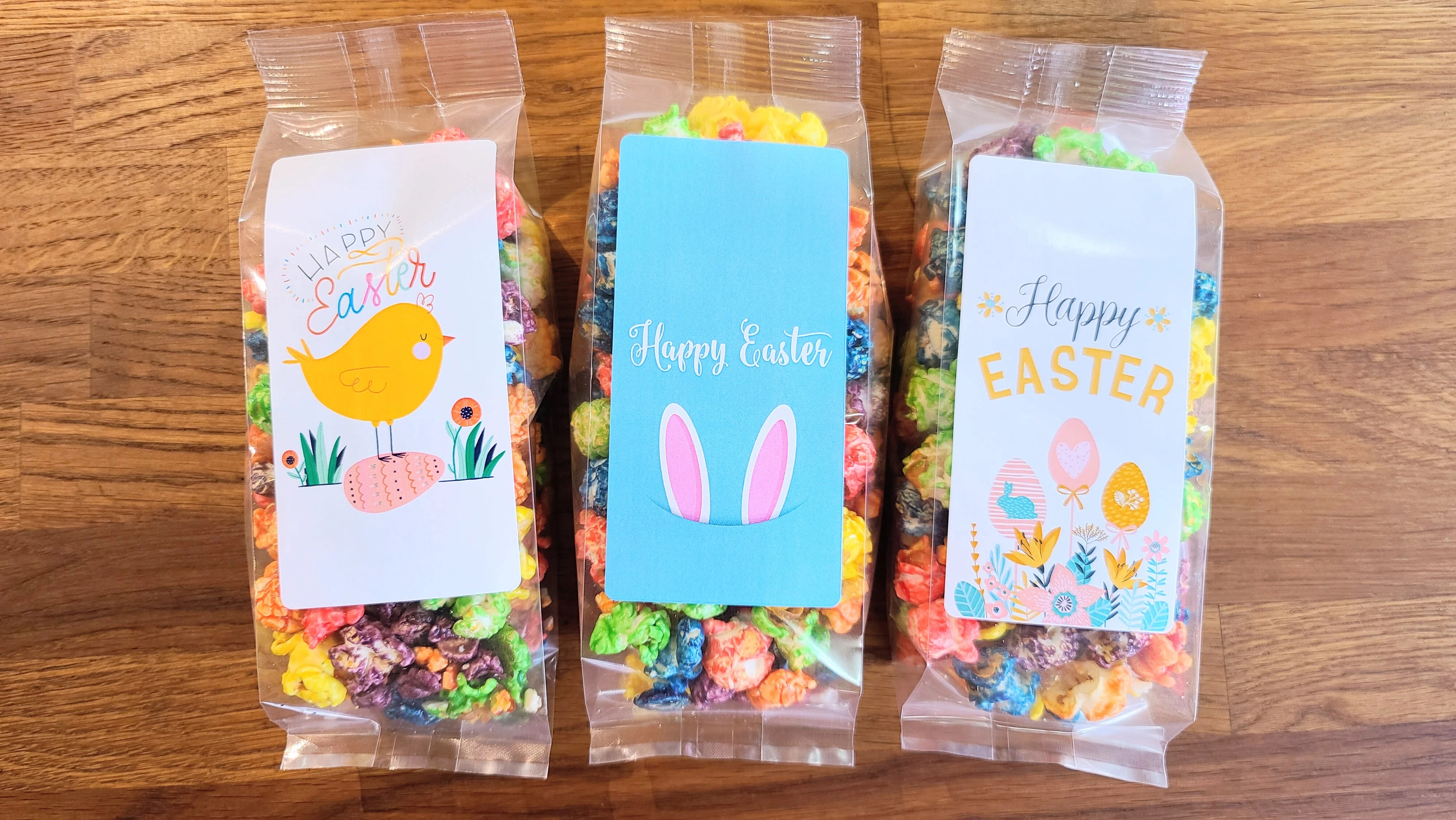 Cravings Popcorn 
1221 Turner St., Lansing  |   (517) 252-4782
Easter Rainbow Swag 6-Pack - A cute way of giving Easter treats. Each 2 cup swag bag is filled with delicious Fruity Rainbow Remix popcorn.
Curbside Pick-Up Hours
Monday - Friday 12 pm to 6 pm
Saturday 12 pm - 4 pm
1147 South Washington, Lansing  |  (517) 306-9002
1754 Central Park Drive, Suite G2, Okemos  |  (517) 306-9002
Easter Meals are now available for pre-ordering!  A maple glazed double smoked Easter Ham, Mashed Potatoes, Gravy, Holiday Stuffing, Dinner Rolls, Vegetables, and Apple Pie!
215 N. Clippert St., Lansing  |   (517) 316-2009
Taking orders for Easter cupcakes. Order now to pick up on Saturday, April 11.
Easter Sunday Family Meal
Roasted leg of lamb, parsnips with white chocolate sauce, maple glazed carrots, green garlic risotto and artisan salad. Serves 6. $155. Pick up Sunday, April 12th from 11:30 am - 1:30 pm. Email nina@eatredhaven.com or call 517-679-6309 to reserve yours today!
Groovy Donuts
3054 E. Lake Lansing Rd., East Lansing  |  517-580-7302  |  Menu 
313 W. Grand River Ave., Williamston  |  517-996-6300  |  Menu 
Easter donuts available Saturday and Sunday. Call to place advance orders.
2970 Towne Centre Blvd., Lansing  |  (517) 485-3779
Easter is around the corner and Bravo wants to make your Easter dinner hassle free. Pre-order your choice of Easter dinner from Bravo by Friday, April 10th for the entire family. Meals serve 6. Choose from a pork chop dinner for $79.99 or a lasagna feast for $79.99. PIck up hot and ready to eat, or take and bake option is available as well. Call to place your order today!
Family Tree Cafe
129 1/2 S. Bridge St., Dewitt  |  (517) 624-2280
Easter Ham Dinner from noon - 5 pm on Sunday, April 12th. - Two slices of ham, cheesy potatoes, corn and dinner roll for $11. Please order in advance and arrange pick up time for Sunday. Lots of other daily specials available during the week.
Photo credit: Gigi's Cupcakes and Cravings Popcorn