I'm a big concert-goer, got to admit it. There are certain acts my wife and I catch every year, and then there are certain music festivals we simply never miss. One of these, lucky for us, is held right here in Michigan's Capital City - the Common Ground Music Fest. This is may be the best time all year to be in the Greater Lansing area. This year, July 9 - 15, Common Ground Music Fest will be rocking and rolling every night for 5 days on great music, food, drinks and fun like you never find. As always, the event promises top talent and a ton of variety. Love country? Come see Eric Church. Classic Rocker? How about Foghat and a little Great White? 1990's era fan? You're in luck. Come see Sublime, Bush and the Wallflowers. Love '80's rock? Ever dialed 867-5309 looking for Jenny? You KNOW you did! Common ground has multiple major acts performing on two separate main stages as well as hot up-and-coming performers in the music genres of techno, dance, hip-hop and house. This is a solid good time. Literally one big party and everyone's invited. Getting excited? Check out www.commongroundfest.com for more info!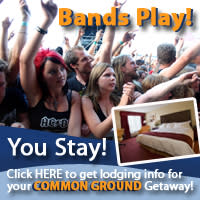 In fact, the acts are so plentiful and diverse this year, I've got a proposition for you. Don't torture yourself just trying to pick one night to come down and live it up. Make it a multiple night adventure and take advantage of some sweet discounted lodging in the area to create a multi-day common ground jam for you and your friends. Stay the night in a Greater Lansing hotel and take advantage of some deals and discounts and get some more music in your life! We've even got a special website devoted < CLICK HERE> to some of our partner hotels putting something special together just for common ground. Discounted rooms, special extras, event shuttles and much more.
Summer is here. The time is now. Quit putting off having a good time and take in some awesome acts. Make it a multi-night concert experience and have the time of your life right here in downtown Lansing!