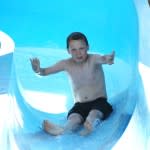 When the temperatures start to climb and the kids are out of school, its time to schedule some outings to beat both the heat and boredom. Greater Lansing has a variety of options for you to have some summer family fun. Grab the family, put on your bathing suits, pack a picnic and head out for some cool fun. Here are some suggestions of five great places to beat the heat in Michigans capital region:
1. East Lansing Family Aquatic Center This fun and exciting family water park with a 200-foot tube slide, 120-foot body slide, 15-foot drop slide, 3,000 squ.ft. splash pad and zero-depth leisure pool will keep everyone from the littlest tadpoles to the big kids happy and occupied. Theres concessions, changing rooms and a sun-bathing deck along with wet/dry sand play area. 6400 Abbot Rd., East Lansing, (517) 332-4420 Open daily at 11 a.m. weather permitting.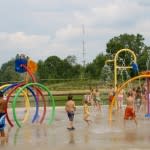 2. Hawk Island Splash Pad The Splash Pad at Hawk Island is a zero depth water park with fifteen features to spray, splash, and dump a blast of refreshing cool water! Located adjacent to the beach house, this spot offers lounge chairs and chaise lounges for adults to relax while the kids enjoy themselves. Large shade kites surround the Splash Pad for those really hot days. 1601 E. Cavanaugh Rd., Lansing, (517) 676-2233 Open daily 9 a.m.-8 p.m. weather permitting. 3. The Grand Fish Located along the Grand River, The Grand Fish provides canoe and kayak rentals and a great picnic area. Call ahead for reservations, then take to the river to see Lansing from a whole different perspective! 530 River St., Lansing, (517) 410-0801. Seasonal hours. Weather and river conditions permitting.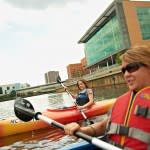 4. Lake Lansing Park South Looking for a lake to take a dip in? Head to Lake Lansing! The park has a sandy beach, bath house, and snack bar and is only 7 miles from downtown Lansing located in Haslett. 1621 Pike St., Haslett, (517) 676-2233 Open noon to 8 p.m. daily. The beach is only open when weather permits and lifeguards are on duty.
5. Kathys Pier Delight Enjoy a delicious frozen custard treat and then hop aboard a pedal boat and enjoy the 187 acres of pristine Park Lake in Bath. Park Lake was once THE destination on hot days with numerous recreational resorts and pavilions since the late 1800s. This is a great place to both relax and get some pedaling exercise all at the same time! 6320 Park Lake Rd., Bath, (517)641-6060. Open Tues.-Fri. 3-9 p.m., Sat. & Sun. noon-9 p.m.