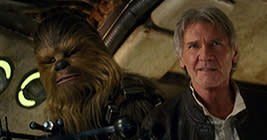 Unless you've been living under a rock you know that we're just two short days away from a movie that a great big bunch of people have been waiting a very long time to see. The latest saga in the Star Wars franchise THE FORCE AWAKENS is set for release on December 17th all over the galaxy. For those that arent well-versed in the storyline let me bring you up to speed, (and pay attention because its a little confusing), while the Star Wars movies that came out in the 1970's were the first we saw, they are actually episodes 4, 5 and 6 of a longer story, ultimately telling the tale of the rise, fall and redemption of Anakin Skywalker, later to be known as the infamous Darth Vader. A long 16 years after episode 6 (the 3rd Star Wars movie to be released), Return of the Jedi, came out, the Star Wars franchise gave us prequels, so instead of picking up the story where we left off we went way back, and we got episode 1, The Phantom Menace in May of 1999. A whole new generation of Star Wars fans were born and now Star Wars lovers, young and old, super geeky and only slightly, have been waiting since 2005 when episode 3 came out. That's 10 long years! That's a really long time, no matter what planet you're on. A fun thing about this new installment, is its episode 7, so its a sequel, not a prequel and we get to see some of that much-loved characters from the original trilogy. Classic Star Wars characters like Han Solo, Princess Leia and Luke Skywalker are back! It almost doesnt matter what the plot line is for this one, just to see the old gang back together and flying through space has Star Wars geeks drooling - and some of them have been camped out for days already, waiting for the best seats at the very first show. I'll admit, I was skeptical when I saw they were coming out with a new Star Wars movie. To me, the story has been told, and now I'm afraid they might be "beating a dead horse" - so to speak. But I'll admit this: I was at a movie a few weeks ago with my family and the trailer for Star Wars: The Force Awakens played on the big screen and I literally got chills when I saw the iconic Millennium Falcon and heard John Williams' classic musical score. I mean you're going to hook any Star Wars fan when after 32 years you give them Han Solo and Chewbacca back on the big screen! Super exciting, but I will say this, the original cast sure looks a lot older since the last time they picked up a light saber. Everyone, that is, except Chewbacca. That lucky Wookie has aged like a fine wine! Han Solo looks like he might need a multi-vitamin and an afternoon nap, meanwhile Chewbacca is looking spry and boasting a beautiful chestnut brown coat. Hey, who can figure, its the movies, am I right?!
Since everyone knows the holiday season is an awesome time to take in a movie, and the Star Wars phenomenon is pretty much taking over pop culture, take advantage of the holiday break and get to a Greater Lansing movie theater and take in the latest Star Wars episode! Both standard theater and 3D options abound and there are viewing times on multiple screens at each theater in town so you're sure to get a seat. Celebration Cinema on Lansing's south side is a great spot for a movie, is right off the highway and surrounded by a ton of different options for dinner before or after your show. NCG Eastwood Cinema, located in Eastwood Towne Center is another gem of a place to see a flick, surrounded by shopping and dining of all kinds. For a whole different experience check out Studio C! in Okemos. Just outside the Meridian Mall this theater offers a premium movie experience with a full restaurant and bar right there while you watch the movie. That's right! Dont wait until after the movie to have a sandwich and a beer, have it right there in the theater, with wait staff service and the whole bit!
Holiday break is upon us and there is a brand new star Wars movie out! Can there be a better opportunity to get to the movies?! Maybe you need to think about it, but while you think, let me whet your appetite: A long time ago, in a Galaxy far away....