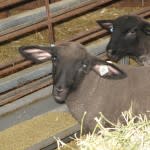 One of the many things that I love about Michigan State University is that its still truly a working agricultural school. Sure, theres the college of law, the study of human medicine and the engineering school. But MSUs roots run deep in farming, soil and herd health. The fact that MSU was the first agricultural college in the nation and that it was dedicated as the Agricultural College of the State of Michigan way back in 1855 is amazing. In 1870, the College became co-educational and expanded its curriculum beyond agriculture into a broad array of coursework commencing with home economics for women students. Weve come a long way, baby.
But beyond the bricks and mortar of the central campus, I invite you to visit the MSU Barns located out on the south end of campus and south of Mt. Hope Road. This is the time of the year that I love the most. Find colts frolicking and kicking up their heels and sweet baby lambs huddled by their mamas and protected by the guard donkeys. So slow your roll, and take a leisurely drive to the MSU barns. Talk with the young adults and their mentors who are dedicated ag enthusiasts. You will learn so much. And so will your kids.
And don't miss MSU Small Animals Day on Saturday, April 21st from 9 a.m.-1 p.m. when you cango in a group tothe barns on a more organized bus tour with all kinds of special activities.
Oh, and while you're out on this little adventure, head north on Farm Lane to the MSU Dairy Store and taste themost deliciousice cream and cheese imaginable. Now that's truly farm to table fresh!