There's no way you can attend a game or tailgate at Michigan State University without the appropriate apparel. You know what I'm talking about, right? Hey you, with the pink t-shirt on. For God's sake, get some green and white on!! Seriously, you don't have a white shirt in your wardrobe? Get thee to a store. Even the local malls and big box stores carry team t-shirts. You don't have an excuse. No need to go all out and get the green and white striped overalls and paint your face or your whole body (not that there's a thing wrong with that.) But if you step in to Spartan territory without declaring your allegiance, you might as well just turn around and go home. You're lame. With that said, here are my suggestions to get some gear. Really. You must.
The Student Book Store | 421 E Grand River Ave | East Lansing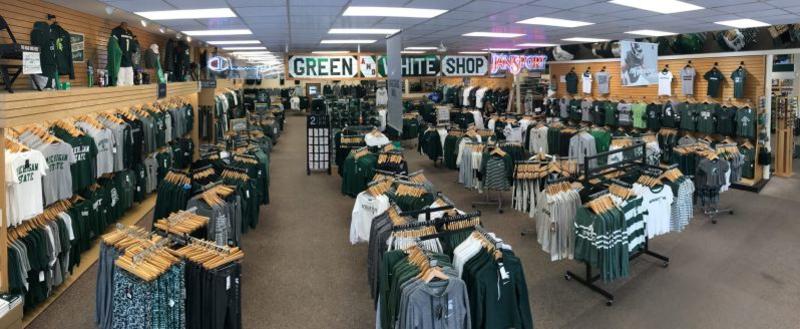 SBS has way more than textbooks. This is a stellar place to find everything MSU from the finest jerseys to unique and specialty t-shirts and items. Need a license plate holder? Pens, beer cozies, bobble-heads, Spartan dog apparel and more.
Spartan Spirit Shop at the Kellogg Hotel & Conference Center | 219 S Harrison Rd | East Lansing
This shop in the lobby of the hotel is packed with gorgeous green and white clothing. Find some really beautiful stuff here. Gosh, I love checking out their latest offerings. And on game days, they put up a tent outside along Harrison Rd. Stay classy Spartans.
Spartan Bookstore at the MSU International Center | 427 N Shaw Lane | East Lansing
I love that this huge shop is in the basement of the International Center on campus so that our students can return to their homelands sporting the green and white. With 461,500 alumni scattered over the globe, it's really not that unusual to travel abroad and see someone wearing a MSU tshirt.
Spartan Spirit Shop at the MSU Union | 49 Abbot Road | East Lansing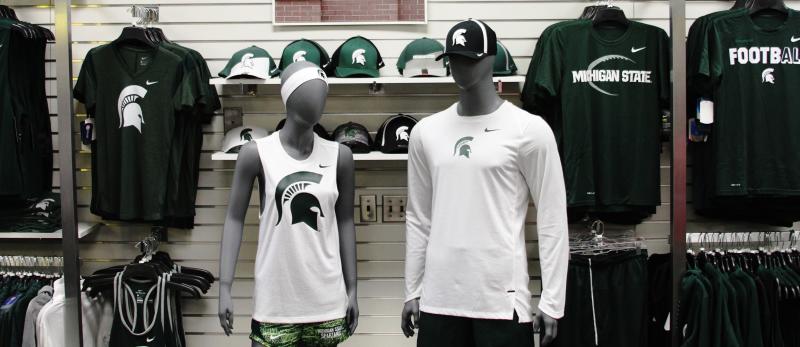 The Union has historically been and still is the hub of MSU, home to convenience shops, coffee, ice cream and of course the spirit store is filled with clothing for adults and children, as well as accessories, glassware, frames, flags, tailgate supplies, and more.
Downtown East Lansing – Go hit up the Grand River Avenue shops and discover all kinds of MSU paraphernalia. Also you'll find limited items available on game days right in Spartan Stadium. It's always nice to buy a sweatshirt when you weren't prepared for that cold breeze high in the stands.
Now, go get some Spartan gear. Wear it proudly. Sparty on.
Did you know that Greater Lansing offers over 150 things to do? With only 48 hours in a weekend, the clock is ticking. Download the LAN150 Bucket List to get started.