It's back. If you are from around here you know what I mean, and that's saying a lot, because a phrase that general could really mean anything. Are you confused what I'm referring to? I bet not. It's back. Set for 3:30 on Saturday. Does what's coming Saturday mean a lot? Yes. To some? It means everything. It's Michigan State versus michigan in the annual football battle for state supremacy. Its a game big on emotion with a lot of history. Glorious, painful, fair, unfair - a battle. Us versus them. To feel fully vested, it helps to pick a side and know the history.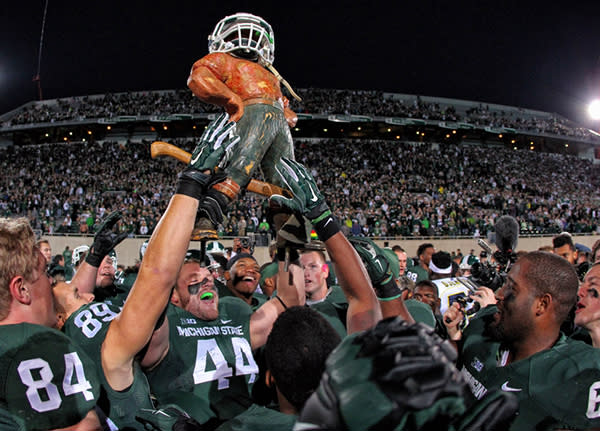 Michigan leads the series 68345. The series record for the Paul Bunyan Trophy (as of 2014) is 35252 for Michigan as the trophy wasn't added until Michigan State became a full member of the Big Ten in 1953, at which point Michigan led 3393. A home-and-home series did not begin until the 1958 season. Through the 1957 season, the game was played in Ann Arbor 44 times and played in East Lansing only 6 times. At the start of the trophy game series, Michigan State began a nearly two-decade period of dominance. From 1950 to 1969, MSU went 1442 against the Wolverines. After the hiring of Bo Schembechler in 1969, Michigan dominated the series for the next four decades, going 308 from 1970 to 2007. But the pendulum swung back towards the Spartans following the hiring of Coach Mark Dantonio in 2007, with Michigan State winning six of the last seven contests. Michigan holds the longest winning streak at fourteen (191629) and Michigan State held a winning streak of four (four times, most recently in the 200811 seasons) in the series history.
So, yes, the game goes back a long way and over the years the tides of momentum, victory and emotion have ebbed and flowed immensely. Each side on this in-state battle will be quick to point out different eras of dominance, great games and stories of where they were when "it" happened. Ducketts last second TD. Desmond Howards famous end zone drop. Jeremy Langford running for the end zone. Devin Gardner running for his life.
While this years game will be outside the friendly confines of Spartan Stadium, Spartan faithful remain confident in the following stats, both current and relevant.
Michigan State has won 30 of its last 33 games and 10 of its last Big Ten road games. MSU Quarterback Connor Cook is the winningest QB in the history of Spartan Football. Michigan State has beaten michigan in 6 of the last seven contests. We have a tough, grounded leader in Mark Dantonio. They are led by an egotistical nut wearing Khaki. Seriously, who tucks a sweatshirt into their pants? But I digress...
MSU is 6-0 and having another special season. michigan is finding ways to climb out of the cellar after a decade of weak play and sketchy leadership. One additional fact remains - these teams dont like each other and so that makes it more than a football game. It means so much to win. The pride in our town, the pride in our Alma Mater, the pride of our great history and traditions grow and breathe stronger with each victory. However we know games are not won in the stats and history doesn't always indicate the future. This years game is about now. The current players, coaches and raw and timely energy. I, for one, cant wait until kickoff. We run this state and Paul Bunyan wants to stay in East Lansing. Its back.
Go Green, Go White, Go State!
https://www.youtube.com/watch?v=1wjz7iTKl6M