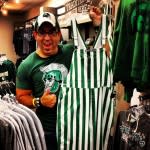 Theres no way you can attend a Michigan State University game or tailgate without the appropriate apparel. You know what Im talking about, right? Hey you, with the pink t-shirt and black skinny jeans. For Gods sake, get some green and white on!! Seriously, you dont have a white shirt in your wardrobe? Get thee to a store. Even the local malls and big box stores carry team t-shirts. You dont have an excuse. And you dont have to go all out and get the green/white striped overalls and paint your face (or your whole body)-not that theres a thing wrong with that. But if you step in to Spartan territory without declaring your alliance, you might as well just turn around and go home. Youre lame.
So go get some Spartan gear, wear it proudly and Sparty on my friends.
The Student Book Store - SBS has way more than textbooks. This is a stellar place to find everything MSU from the finest jerseys to unique and specialty t-shirts and items. Need a license plate holder? Pens, beer cozies, bobble-heads, Spartan dog apparel, ad finitum.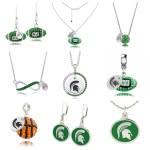 Silver & Beyond Located in the lobby of the East Lansing Marriott, this lovely accessory shop has some beautiful Spartan jewelry for the ladies. Perfectly acceptable to wear to anywhere any time of the year from the symphony to the workplace.
Vets Too Gift and Garden Boutique This little garden boutique on the north side of Lansing constantly surprises me with its offerings. I found some super cute Spartan bracelets recently.
Kellogg Hotel & Conference Center The gift shop in the lobby of the hotel is packed with gorgeous green and white clothing. Gosh, I love checking out their latest offerings. And on game days, they put up a tent outside along Harrison Rd. Stay classy Spartans.
Downtown East Lansing Go hit up Grand River Avenue shops and discover all kinds of MSU paraphernalia. This is Spartan Country and we wont let you forget it. Also, on campus both the MSU Student Union has shops and the basement of the International Center sell items as well.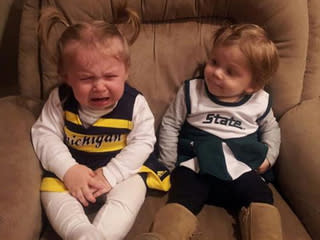 Did you arrive at the game sans green and white? There's no need to fret or cry like a little baby. Check out all the MSU apparel at the Sideline Shops at the games. You can find them both in the concourse or outside Spartan Stadium.