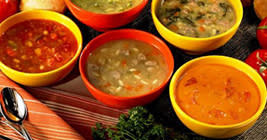 When the holidays are over but we've still got plenty of winter left we tend to move from the Holiday season - to cold and flu season. Even if you aren't officially sick with a cold or flu, cold windy days have people in Greater Lansing longing for warm and toasty comfort food. We search to stoke our internal furnace to keep us warm as we head into work, home from work, or out for errands, shopping, meetings and more. A hot bowl of soup is a pick-me-up in a bowl and from time to time, we all need one. Good thing for us, there are some great places in Greater Lansing to get a memorable and delicious bowl of soup.
There are so many great places to get some soup in fact, that I can't list them all here, but what I will do, is list a few places to check out that actually specialize in soup. We're talking about soup so good that your cold or flu immediately feels a little bit better and that awful down to the bone chill warms up like a cat nap beside a fireplace. First is Soup Spoon Cafe. This charming Michigan Avenue cafe offers breakfast, lunch, dinner, craft beer, cocktails and of course, amazing soup. If you've got a soup frenzy going, this is a must do. Then you know a place called Zoup! is going to be a site for super soup. These are hand-crafted varieties (usually about a dozen to choose from) that are good in and of themselves, but go along perfectly with a sandwich and a salad. It's a luxury for your cold belly, believe me. Next is Hobie's Cafe & Pub, over in East Lansing. These guys get the long-standing soup seller award. They have been there about forever, and I mean it. I remember my Mom taking me to lunch here as far back as 1983 and the soup as been among the areas best ever since. It was the first place I ever had cheddar and broccoli soup. A soup so good my friends you want to simply climb into it and read the newspaper. Ahh, a fine memory. Last on my list is a brand new place downtown Lansing called Tom & Chee, and get this: All they have is grilled cheese and Tomato soup! I mean, awesome gourmet varieties of both, but yes, a grilled cheese and tomato soup place through and through. You've got to pop in and check it out, but check out the menu here first so you know what you're getting into. All kinds of bread, all kinds of cheese, meats you can add, sweet stuff, salty stuff, then a few awesome varieties of tomato soup to choose from. It's a restaurant that was borne out of the popular business pitch show SHARK TANK and its been on Travel Channel's Man Versus Food and its one of only a few locations in the whole country, and its right here in downtown Lansing. I haven't been there yet (when I tried to go last week there was a line out the door!) but when I do I know I'll be in heaven. Soup heaven. Comfort food heaven.
Do you know more places to eat in Lansing with great tasting soup not mentioned here? Post a comment and tell me about it. So yes, its cold and maybe you haven't been feeling well. Don't wait for Mom to bring you some soup, get out into Greater Lansing and grab a big hot bowl. Soups on!