Friday November 22nd Events begin at 5
Well despite the fact that it feels like summer just ended, the chilly temperature outside, and the calendar itself tells us its time once again for Greater Lansing's feature holiday event, Silver Bells in the City.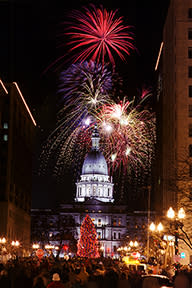 Now I have attended this event for many many years, and by the growing number of attendees every year - so have you! Of course the big draw is the Electric Light Parade and the ceremonial lighting of the State Christmas Tree. Now the parade is awesome, and the lighting of the tree (and the fireworks that follow) is extremely cool, but believe it or not those are just two of about 20 really fun things that are going on the evening of November 22nd. You think I'm exaggerating? Wrong! Whether its more holiday themed entertainment outdoors downtown, or Christmas music, crafts and entertainment inside, you've got an evening full of free fun to remember!
Get into the Silver Bells Fun Run, hear a Special performance by stars of Radio Disney, enjoy downtown shopping, hear bands, both vocal and instrument infused, hand bell ringers, see caricature artists, clowns and face painting, performances by local dance schools, model railroad exhibits, comedy and magic shows, live reindeer, children's crafts, Irish Dancers, holiday choir, live radio broadcasts, museum exhibits, a teaser of "White Christmas" and Capitol Tours! Of course I can't forget Santa and Mrs. Claus and a whole bunch more! Yes - more.
How's that for a list of fun events! At this time of year, a list THAT long is usually followed by - and a partridge in a pear tree! So yes, the parade and the tree-lighting are fantastic, but don't sell yourself, or this event, short! There is a ton more going on during Silver Bells in the City that you've just got to see. Check out the Lansing Events, get the times right and see it all. After all, its the most wonderful time of the year - make the most of it!