There's something absolutely magical about Lansing's Silver Bells in the City. It's a whirlwind combination of a whole bunch of my favorite things, Nothing I like better than a festive parade, spectacular fireworks, the illumination of Michigan's official Christmas tree and a ton of live music. Take that and pump it up a notch or ten and you've got the incredible Silver Bells evening. It's become an annual tradition for so many families and visitors come from all over the state to enjoy Lansing's kick-off to the holiday season. In past years it's been downright polar-vortex-freezing, but this Friday, November 18, 2016 the forecast is for a high of 58 and a low of 46 degrees. Thank you Mother Nature. So whether you get to two of the events, or try to hit them all up, you surely don't want to miss this evening when downtown Lansing rolls out the festive carpet.
Top Stuff to Do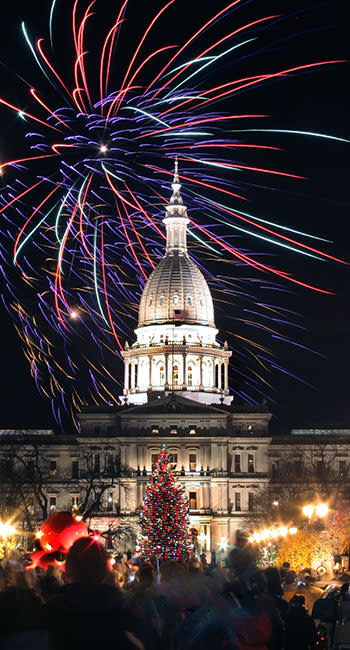 The Parade. The Silver Bells Electric Light Parade is by far one of my favorite sights. Over sixty units and eleven area high school marching bands will sparkle with thousands of lights as they make their way through the streets of downtown Lansing. The parade steps off at 6 p.m. at the corner of Lenawee and S. Washington Square, makes its way north on Washington, turns on Ottawa and then heads south on Capitol Avenue past the State Capitol Building.
The Tree Lighting. Okay. I'll admit I'm a dork, but singing the song "Silver Bells" surrounded by friends, family and happy people makes me very emotional. This community sing-along occurs at approximately 7:30 p.m. in front of the Christmas tree just before they do the countdown and light it up.
Fireworks. The fireworks as backdrop to the majestic capitol dome thrills me. As soon as the tree is lit, the fireworks begin. What a glorious sight.
Concert. Follow all this up with some live music. Nashville-based SmithField will be performing 8-9 p.m. at the Lansing Center. This up-and-coming duo combines memorable music and stunning harmonies. 
Tons MORE to Do
The Michigan History Center has crafts and music, the Capitol is open for tours, Capital Area District Libraries' downtown branch is offering crafts for the whole family and a holiday show in the basement auditorium and the Lansing Center will have musical performances. Lansing City Hall, St. Paul's, CATA, Impression 5 and the Library of Michigan also have things going on. And you won't want to miss visiting with Santa and his reindeer at the Lansing City Market, would you? Wait. Don't forget the Silver Bells Village
Can't Stand the Crowds?
Get to the Lansing Center for a live broadcast of the parade, the tree lighting and the fireworks on the big screen.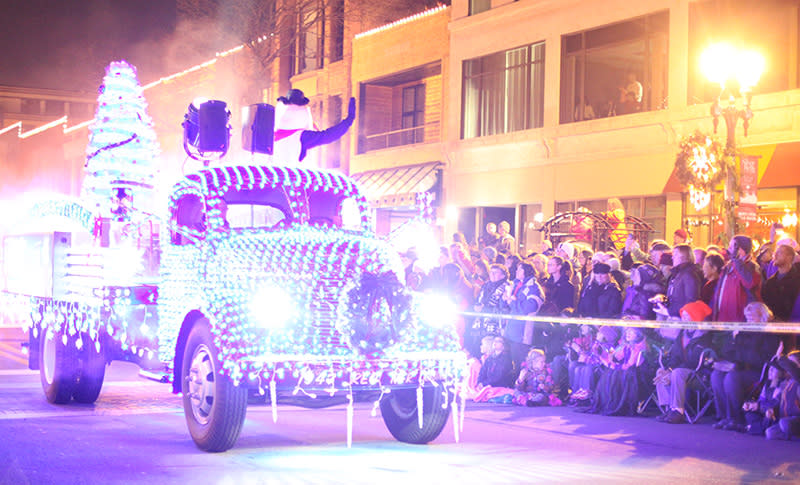 Keep the Party Going and Stay Overnight!
Both Saturday and Sunday mornings feature Breakfast with Santa at Troppo from 8 a.m.-noon. Also, if you like, there's a Silver Bell 5k going on Saturday morning. Wear some holiday silliness and get moving! An overnight stay makes sense. With all kinds of hotel options, why not make this a fun, family getaway?
Parking
Find free parking after 5:00 pm in all City of Lansing-owned parking ramps during the event along with the Lansing Community College ramp, the State of Michigan Roosevelt ramp, the State lots the Capitol and the Hall of Justice off of Ottawa and Allegan Streets, the Lewis Cass lot off of Kalamazoo Street, and the lots south of the Michigan History Center on Kalamazoo Street 
Silver Bell Trivia
The bells refer to the Santa and Salvation Army bells that are rung throughout the Christmas season.
The song was originally called Tinkle Bells. Thankfully one of the songwriters' wives came to the rescue.
"Silver Bells" was composers Ray Evans and Jay Livingston's biggest hit. This songwriting duo also gave us "Mona Lisa" (which was originally titled "Prima Donna") and "Que Sera, Sera (Whatever Will Be, Will Be)".
From the time "Silver Bells" debuted in 1951, over 140 million recordings have been sold, performed by various artists like: Bob Hope & Marilyn Maxwell, Bing Crosby and Carol Richards, Richard Hayes and Kitty Kallen with Orchestra, Bebe & Cece Winans, Freda Payne with Scherrie Payne, Clay Aiken & Kimberley Locke, Diane Arkenstone & Misha Segal, Lana Puckett & Kim Person, Elvis Presley with Anne Murray, Wilson Phillips, She & Him and Michael Bublé featuring Naturally 7.
Did you know that Greater Lansing offers over 150 things to do all year long? With only 48 hours in a weekend, the clock is ticking. Here's the list. 
We make it easy to find a whole lot of holiday happenings in Greater Lansing by gathering them all together and tying it up with a bow. You're welcome.