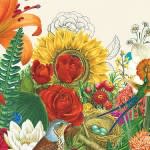 Currently the MSU Museum has a wonderful tribute to the 50 year anniversary of Rachel Carsons ground-breaking book, Silent Spring by not only having an "Echoes of Silent Spring" exhibit inside the museum, but also creating a walking tour through campus that helps you understand where, how and why Michigan State University used DDT to try and limit Dutch Elm Disease and the effects and the research that followed. On this tour you can find some of the very few Dutch Elm trees left on campus, see where the researchers found dying robins and learn about the pesticide research done at MSU.
Here's the MSU Museum Press Release: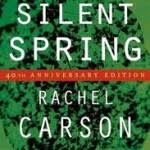 Sept. 27, 2012 marks the 50-year anniversary of the book credited with launching the modern environmental movement, Rachel Carson's "Silent Spring." Just in time for that historic milestone, the Michigan State University Museum has created a campus walking trail highlighting notable spots around MSU that were chronicled in the Silent Spring story, and some believe, even provided inspiration for the book's title.
The 45-minute mobile tour helps extend the MSU Museum's special exhibition - "Echoes of Silent Spring: 50 Years of Environmental Awareness" -- outdoors to provide educational content in a new way. A team of educational technologists and digital humanities experts from MSU's College of Arts and Letters used a program they developed called "Tourguide," a mobile-based learning environment that uses GPS navigation to pinpoint tour landmarks and then present interpretive information, photographs and audio features on a variety of mobile devices. A printed map and trail markers, courtesy of MSU's Campus Planning and Administration, are also available.
"The walking trail gives the exhibit a 'sense of place,' by linking the gallery exhibit to the campus where the local story unfolded 50 years ago. The aim is to connect history to its landscape - and as well, to encourage visitors to enjoy the wonderful campus of MSU," explains MSU Museum Director Gary Morgan, "Echoes of Silent Spring" exhibit curator and author of the walking trail.
Having lived through President Carters energy crisis years when we turned our thermostats down to 65F, and took my turn in long lines on alternate days to gas up my very small and efficient Ford Pinto, I am perfectly aware of the havoc we wreak on the environment. I have recycled, composted, thrift-shopped since the 70s. And I remember friends discussing Rachel Carson and her book, Silent Spring so Im pleased to revisit an ongoing issue that we still struggle withman versus nature, natural selection, environmental responsibility and more. Very thought provoking, dont you think?