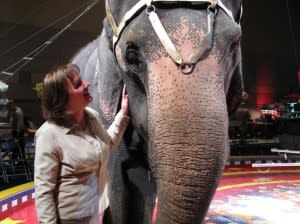 The 70th annual Shrine Circus is coming to the Lansing Center with multiple performances Thursday through Sunday. Clowns, elephants, tigers, flaming hoops, daredevil acts, acrobats and more will entertain you, thrill you and make you laugh. Its a great time to get the family together and enjoy a live show. A couple of years ago I was lucky enough to meet one of the Shrine Circus elephant named Carol. When I reached up to pet her at the top of her trunk, I thought it would be soft as a horses nose, and it was tough-- tough as elephant hide. Go figure, right? And that trunk seemed to have a life of its own. Coming out of nowhere, it was inquisitive and a little freaky.
So in honor of Carol and her crazy trunk, I thought Id share a list of trunk tidbits.
Did you know that an elephant trunk can be used
for showering both with dust (to protect it from fly bites) and with water. The average trunk can hold about 2 gallons of water.
for picking up food, lifting or throwing things? Youve been warned.
for breathing? But if you block its trunk, it can also breathe through its mouth.
for rubbing their eyes and ears?
for use as a snorkel when swimming under water?
for sniffing and snuffling? Which Carol did to me, and like I said, it was creepy and cool all at the same time.
Because the elephants have packed their trunks and come to Lansing, you should really head over to the Lansing Center and see them.
What: Shrine Circus
Where: Lansing Center 333 E. Michigan Ave., Lansing, MI 48912
When: January 9-13, 2013
Cost:Adult General $18, Child General $16