Around this time of year, people start talking about the end of summer. What does that mean to you? I think it depends on your age. If you're a kid, or a college student, summer ends when you head back to school. For a lot of parents, like me, back to school also means the close of summer as we know it. Some people, sun chasers like my wife, they feel summer is still here until it starts getting cold. That gives us all a little more time. I like that line of thinking and apparently, so do a lot of other people because September is incredibly full of exciting outdoor opportunities for fun. In fact, people may not believe it but September is as festival and event heavy in Greater Lansing as it is around here in June and July! Yep, summers biggest months don't have anything on September in Greater Lansing. Don't believe me? Let's start with this weekend, Labor Day Weekend! We've got the Capital City Dragon Boat Race and the Michigan Mosaic Festival going on down at Riverfront Park downtown. Got a few games of Lansing Lugnuts baseball left too, including this Saturday, which is also aFireworks night. Next weekend get out to Charlotte for Frontier Days. This is something I've always meant to check out, but never seen for myself. What I have heard is that its a ton of fun and always well-attended. The weekend after that, September 13-16 is another fun festival in one of our surrounding communities, the Mason Down Home Days. Don't forget, as September gets toward its end, you've got the Old Town BluesFest September 21st and 22nd. Fitness fanatics already have Sunday September 16th circled on the calendar as the big day of the Capital City River Run. The Wharton Center has some cool acts in during September as well. Be sure and catch Sheryl Crow and Lily Tomlin. Of course I don't even have to mention we're at the beginning of another fantastic season of Spartan Football, starting with the home opener, this Friday, August 31st.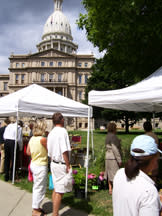 So how's that? Enough fun stuff going on in Greater Lansing during the month of September for you? I've got to guess the answer to that is yes. Well, be sure to pace yourself, because the Fall in this area is full of fun as well and you'll need energy to handle all that. Right around the corner are Fall Favorites like color cruises, Apple Butter Fest, Oktoberfest and all kinds of great Halloween stuff for all ages. Yes summer still lives in Greater Lansing, but avid event-goers don't have to grieve its passing. The coming season promises something fun on every weekend and more!
For all the info on what's going on in Greater Lansing, check out our Calendar of Lansing Events, or download our awesome mobile app to your Smartphone. Get out and explore Michigan's Capital City!