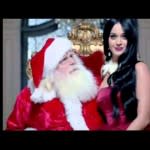 Im not sure if there is more trepidation or excitement when its finally time to sit upon Santas knee and whisper in his ear what you would like for Christmas. Theres always the worry that he saw you making out like a teenager behind the copier at last years Christmas party and will deem you naughty. What you really hope is that he saw you taking your elderly neighbor in for cataract surgery at the butt crack of dawn and then tucking her gently in to bed afterwards. And then theres the lovely hope that if you ask really nicely for that live-feed video drone for a mere $499.95 that you found on the Hammacher Schlemmer website that you might (cross your fingers) you might just get it. Or, you might just get that lump of coal. Or a wafflemaker. Whatever.
Either way, a visit to Santa is always a must this time of year whether youre five years old or 50 years young. The jolly old elf himself can be found at a couple of places in Greater Lansing. So hurry on over and catch up with him soon. He'll be heading out for some much needed rest and relaxationaround December 26th.
Santa at the Meridian Mall Nov. 14 - Christmas Eve Monday - Saturday: 10 a.m. - 9 p.m., Sunday: Noon - 6 p.m. Christmas Eve: 10 a.m. - 6 p.m. And just so you know, Santa takes a break to feed his reindeerMonday - Saturday: 1 - 2 p.m. andSunday: 2 - 3 p.m.
Santa at the Lansing Mall December 13 - 23 10 a.m. - 8 p.m. December 24 9 a.m. - 6 p.m.
Did you know that Greater Lansing offers over 150 things to do? With only 48 hours in a weekend, the clock is ticking. Download the LAN150 Bucket List to get started.