Go ahead and wax poetic about the return of fall's color explosion, the cooler jeans-and-a-sweatshirt weather and the coming holiday spirit. 
I'll reserve my cheer(s) for breweries transitioning from hoppy summer IPAs to the malty and bold beers that warm the belly. A late October trip to Lansing to explore the Makers & Shakers Trail showed the diverse beer lineup that celebrates Michigan's harvest and keeps us smiling through winter snowstorms. 
I timed the visit to the booming trail that features 17 makers of craft beer, spirts and wine to coincide with several seasonal releases that may have a limited lifespan on tap. The upside of potentially missing out on one of the delicious drinks below is that something new and creative will have taken its place. 
Here's a breakdown of what to try while in Greater Lansing – and a reminder to play it safe while on the trail and settle into one of the region's hotels.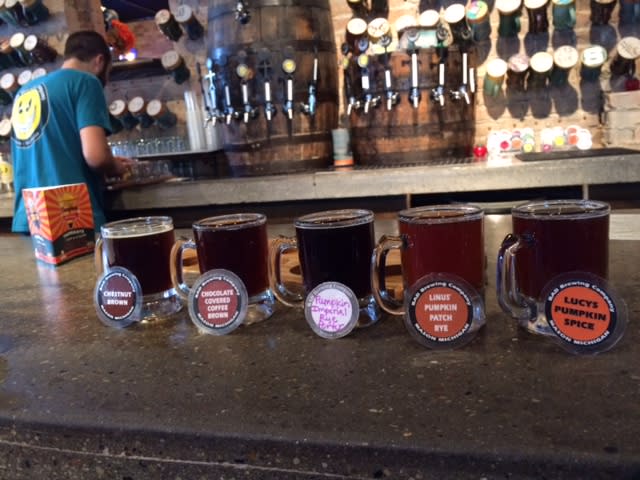 This downtown Mason gem is incongruous with its name. BAD Brewing is excellent, and it's become a destination for brewhounds traveling the state.  
There were 23 beers pouring on the day I walked into the 5-year-old brewery that a former police officer, who was a basement brewer while on the force, launched with a business partner in 2012. Several, like the Ash Street Amber and the Sunrise Citra Pale, were mainstays, but others veered into an exploratory space. 
Being a coffee and chocolate junkie, I immediately spotted the Chocolate Covered Coffee Brown on the menu. It was spot-on without overpowering on either front. While not expressly a fall beer, the deep-toned pour was a fitting start to seasonal brews session since warm coffee and rich chocolate are autumn and winter indulgences.  
I moved on to BAD's three pumpkin offerings all named by someone who apparently holds "It's the Great Pumpkin, Charlie Brown," in high regard. The show lent its name to the Great Pumpkin Imperial Rye Porter, Linus' Pumpkin Patch Rye and Lucy's Pumpkin Spice. I'll be the first to admit pumpkin beers aren't necessarily the backbone of my imbibing, but BAD's versions are well-balanced between malt and spice. 
The final slot of my sampler flight held probably the most impressive beer of the day, the Chestnut Brown Ale, which has Michigan-grown chestnuts in the mash and boil. The addition sweetens this traditional brown into a fall delight.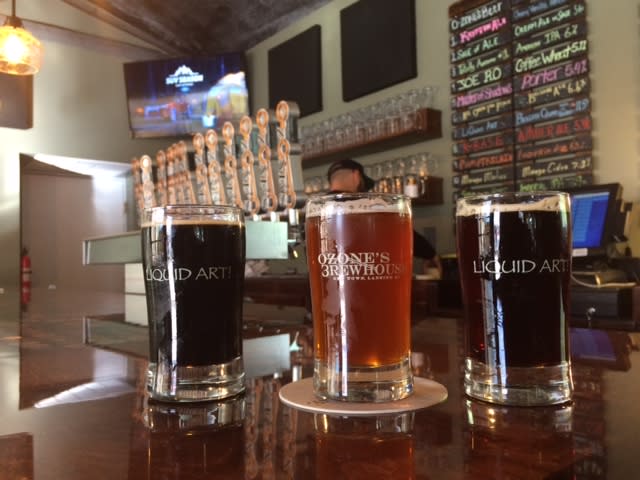 Next on the travel itinerary was a stop at Ozone's Brewhouse in Old Town, a step closer to Lansing's overnight lodging that allows sound consumption of fall classics.  
At Ozone, the indulgence came in the way of Pumptrickin, which is billed with a taste profile similar to pumpkin bread, and Chocolate Side of the Mint, a seasonal stout.  
The amber-hued pumpkin ale was true to form with notes of cinnamon, nutmeg and clove while the Girl Scouts of America Thin Mint cookie may soon be challenged by Ozone's brew that adds cocoa nibs and peppermint to the rich stout. 
Ozone, which recently celebrated it's one-year anniversary, also has the Master of Shadows porter that is always available and is a nice gateway for the developing palate into darker, roasty beers. 
The return to downtown Lansing set up the final two locations before waiving the white flag and getting some rest and relaxation for a second day of exploring Michigan's capital city.  
Lansing Brewing's rotating taps held over an end-of-the-growing season Home Grown Harvest Ale, a wet-hopped beer that literally burst with fresh taste. Despite my enthusiasm for changing over to darker beers for the fall, this was a gift was I wasn't expecting by being the best version of the style I've had to date. Get this while it's still available, and maybe think about buying a crowler for the fridge for deeper in the season when you need something a little lighter. Other rotating beers worth trying at Lansing's brewhouse were the Wired 'N Jiggy A.M. Stout that is infused with four styles of coffee beans and chocolate fudge and the Kentucky Monk, an adventurous bourbon barrel-aged Belgian that also incorporates tea and oranges into the brewing process.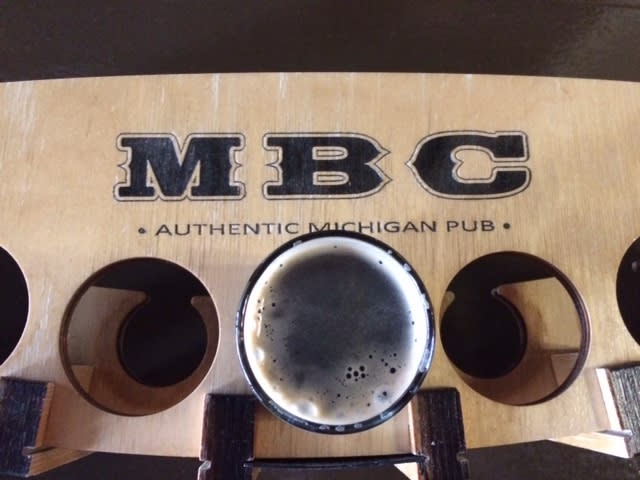 Midtown, meanwhile, was carrying its Pumpkin Cream Ale, a mild and smooth brew that was enjoyable without being too sweet. The easy-drinking beer is lighter than many of the heartier, heavier offerings that tend to dominate the style. It's clean, fresh and delivers with fall's most symbolic gourd. If you're looking for something with a little more heft, Midtown's Plaid Penguin Scotch Ale and American Stout will fill the malt bill 
Lansing, in addition to being a great spot to sample a wide variety of beers, also has a lineup of restaurants that compare to anywhere in Michigan. Once you're done with the trail, make sure to review this checklist that offers hundreds of other ideas on what to do and where to go in Greater Lansing.