Ive got a huge crush on anyone with a Scottish accent. As soon as that burr starts rolling off their tongue, Im a pushover. I have to admit that sometimes I cant understand everythinga Scotsmansays, but I dont really care. I just want them to keep talking. My mother passed her Scottish genes down to me. AndIm the proud inheritor of a very old family tea cozy with the words, Save Bonnie Scotland embroidered on silk. I keep it next to my tattered copy of Clan Tartans in a sacred spot on my bookshelf.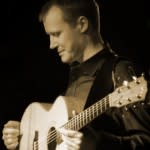 So when I got a phone call abouteight years ago inquiring about a venue for Scottish singer Jim Malcolm (who was swinging through Lansing on a tour of the US and Canada) to perform in, I did my best. I made a few phone calls and hooked him up with my former neighbor Christine and she came to the rescue. A house party ensued and a friendship was cemented. Christine has since made multiple trips to Europe and visited with Jim and his family, and in turn, Jim has returned to Lansing each year to put on an extraordinarily intimate and wonderful performance. With a lovely voice, a guitar, harmonicas and some traditional storytelling, Jim Malcolm takes you on a musical journey to the highlands ofScotland. Its haunting, celebratory and poetic.
This Friday, September 14, 2012,you can find Jim Malcolm performing at the Creole Gallery for one night only.