Change is hard – and that's coming from a woman who thrives on challenging the status quo! Recently I announced the next opportunity in my career, transitioning from Director of Sales at the Greater Lansing CVB to the Vice President of Membership and Operations with the Michigan Restaurant Lodging Association.This was an extremely thought-out, mindful decision which took a lot of time and discernment. Why? Because making an active decision to do something difficult doesn't make sense to people that thrive on pleasure and get spooked when the comfort zone gets challenged.

Showing up to my job at the GLCVB for over 7 years has been a joy. As I arrived each morning I'd park my car, look up at the sky, take a deep breath and get pumped up for another day of #LoveLansing. The GLCVB staff is the "dream team" and the organization's mission is vital to positively effect the local economy. GLCVB clients and partners are second to none. My favorite thing about my time at the GLCVB has been learning about the specifics of different industries while helping association professionals plan events. For all these reasons saying goodbye to my daily routine is difficult, unpleasant really. I'd say the competencies and synergy of the GLCVB staff could rival any organization out there!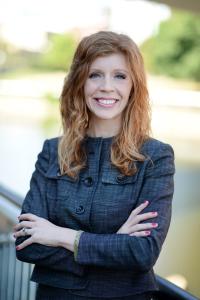 As I transition into my new role at the Michigan Restaurant Lodging Association, I am comforted by knowing the MRLA has a talented and professional staff. Additionally, having been in the local hospitality field for nearly a decade, a lot of the members I'll be calling on have been the same people I've worked with while at the GLCVB. Lastly, this is what I went to Michigan State for – to serve those who serve others in hospitality. What I'm most excited about in the new position is bringing my hotel experience to the newly added lodging component of MRLA. I welcome the change, although it isn't easy, and am eager to positively influence MRLA's members and internal team.

As I jump into this new opportunity, I'd like to challenge YOU to face change! That doesn't have to mean punching the clock with a new employer, either. It can be any kind of change that mixes things up. Change can be as simple as reminding oneself to continuously re-evaluate habits and routines, challenge our comfort zones and optimize practices and time. Tom Hanks once said, "It's supposed to be hard. The hard is what makes it great." I encourage you to discern change, as it is the only true constant and be open to the growth and possibilities change offers. So here's to new beginnings, and if you're reading this and a part of the local hospitality community, I look forward to continuing to work with you in my new role!