Did you know that doctors are now writing prescriptions for their patients to get outside to help alleviate anxiety and depression, and to lower stress levels? Yes, the script really might read, "Get out!" or "Take two hikes, and call me in the morning." Studies have shown that being out in nature can lower blood pressure and reduce heart rate and stress and that physical exertion like hiking and walking in natural settings increases creativity and problem-solving skills as well as lessening the effects of ADHD in children. Reports suggest that the vitamin D your body makes from being exposed to sunlight builds strong bones, wards off infection, and even helps kids with asthma breathe better. Wow. If you are experiencing symptoms such as sleeplessness, irritability, high blood pressure, elevated stress levels, or yelling at the dog, skip the doctor and take our prescription.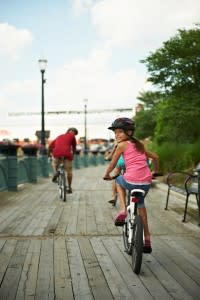 Spend the Day on the Lansing River Trail
If walking, running, biking, or even rollerblading is something you may enjoy, then pack your bikes, your walking shoes, or your rollerblades. For such kid-friendly attractions in Michigan, bring along the kids, the grandkids, and even poor Fido, who you yelled at yesterday. Take a health day (not a sick day) from work, and visit Michigan's capital city where you'll find some of the most diverse and interesting trails in the state, which serve as wonderful, kid-friendly attractions in Michigan. Where else can you trace the banks of the longest river in Michigan, pass through a vibrant downtown capital city, hear the roar of lions at the zoo, and then just when you think the end of the trail is near, find 100 miles of sidewalk at a Big Ten university? Now is the perfect time to spend some time on the Lansing River Trail.
There are multiple options of kid-friendly attractions in Michigan, as well as side trips. Start at the northern-most point near Turner-Dodge House in artsy Old Town Lansing. While in Old Town, you can fuel up on beignets and coffee at The Creole and then head south. Pause for photos at the Inspiration sculpture, and then grab some delicious cheese at Hill's Cheese shop inside the Lansing City Market. If you're feeling really adventurous, take a quick kayak ride or paddle board about the downtown area of the Grand River with River Town Adventures, which offers many kid-friendly attractions in Michigan. Then continue on your way. Here's where options to stop and visit abound. Impression 5 Science Center, R.E. Olds Transportation Museum, and the State Capitol all beckon. Once you pass by Potter Park Zoo, you have a choice of heading east to MSU's campus or heading south and eventually joining up with Delhi Township's Sycamore Trail, where kid-friendly attractions in Michigan are aplenty.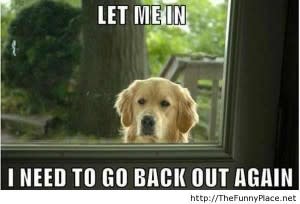 Don't Forget to Take Fido with You!
The folks from Michigan Trails magazine tout the southern branch of the Lansing River Trail as "one of the most beautiful sections of paved trail in Michigan." Traveling through a series of woodlands and *wetlands, and crossing lots of bridges, you'll find plenty of opportunities to view wildlife and seasonal wildflowers and enjoy the "solitude of nature." * Check the status of the river trail for detours and low-lying seasonal flooding.
So there. A fun, affordable, and extremely interesting way to improve your mind, body, and spirit—our prescription for a great experience with long-lasting effects. Cheers to your health and discovering the optimal kid-friendly attractions in Michigan. Love, Lansing.

Did you know that Greater Lansing offers over 150 things to do? With only 48 hours in a weekend, the clock is ticking. Download the LAN150 Bucket List to get started.