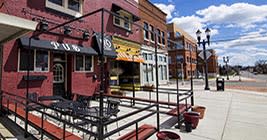 Look at charming REO Town, waiting for you, almost asking for you to sit down, and have a beer.
Even though old man winter seems to have a fair amount of strength left, the spirit of cool places like REO Town in Greater Lansing rage on, welcoming visitors and residents alike to come on down, draw up a chair, and yes, in this case, draw up a beer as well. This Friday and Saturday, January 29 and 30, located throughout three distinctive venues in REO Town, come celebrate the Art and Craft Beer Fest. Along with over 20 different craft beers and ciders there will be over a dozen different wines for tasting and sampling all night long. The REO Town venues you'll be hopping to and from are cool looking places and conveniently located near one another at Robin Theater, the AA Creative Corridor and the Cadillac room. In addition to the drinks, there will be great local art and local bands as well. Everything from photography to paintings to metal sculptures, there will be art of all kinds on display, setting the stage for culture and conversation. Further helping to set the mood off with a distinct local flair will be a number of local bands and musicians crossing numerous genres including alternative rock, country, classic rock and more. Sound like fun? You bet it does. Especially if you're thirsty for some unique and bold craft beers, daring crisp ciders and charming fine wines. Early admission is available now for just $30 per day, or get the upgraded VIP package for $40.
Be sure to check out the website for additional details, but lets be honest. Your mind is already made up. Youve got a hardcore thirst for craft beer, awesome art and moving music. Find all three this weekend in REO Town!