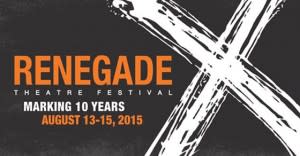 Is it possible that Renegade Theatre Festival has been around for 10 years? Is it possible that you may have missed this FREE cultural event? Because if you like theater, poetry, comedy, musicals and improv, then you need to head to Old Town Lansing, my friend, for one of the most fun things to do in Michigan. Running Thursday through Saturday, you can find 50 performances and special events going on. This is a mid-Michigan-wide collaboration of professional and community theaters like Williamston Theatre, Lansing Community College, Peppermint Creek Theatre Company, Riverwalk Theatre, Michigan State University, Something Creative Teen Theatre and many, many more as well as some individual efforts. And there truly is something for every member of the family. Saturday has performances and a workshop specifically for the kids at the Red Cedar Friends Meeting House on Turner Street with Mid-Michigan Family Theatre and All-of-Us Express Children's Theatre on hand with some great performances and a teen workshop going on at the MICA Gallery. How cool is this festival with so many different and unique venues participating in Old Town?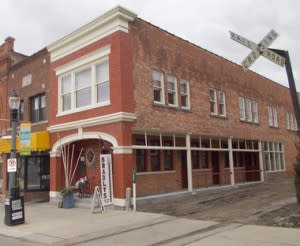 Comfort Station.
Like the patio of the Comfort Station on Grand River Avenue presenting Spoken Word. This fabulously restored building often gets overlooked, but it was built in 1912 as a resting spot for women and children to keep warm while waiting for the train that used to stop in Old Town. Don't worry if you end up watching from the railroad tracks, as this is not a working track. Please note that for some venues like this, if you prefer seating, you'll have to bring your own. Other performance spaces include the courtyard of the Old Town General Store, art galleries, storefronts and parking lots. Theaters will be everywhere you turn in Old Town. Oh and music! They've scheduled a great live music line-up each evening and all day Saturday, further cementing this event as one of the most fun things to do.
Add to thatOld Town ART Feast taking place on Turner Street on Saturday. I attended last year, which was its very first year, and visited the local artists' booths and noshed at the food trucks gathered there. Artists will be arriving at 10 a.m. and the food trucks not until 1 p.m. Being in Old Town is a fun thing to do and just makes me happy. So come on out and get your fill of great food, great music, and above all, great theatre at the 10th Annual Renegade Theatre Festival! See you there!
Did you know that Greater Lansing offers over 150 fun things to do? With only 48 hours in a weekend, the clock is ticking. Download the LAN150 Bucket List to get started.