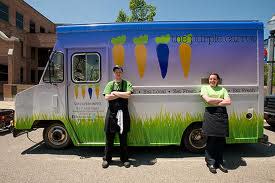 When the food truck movement began in the Lansing area, my first thoughts were that the food coming out of the trucks would be equivalent to that of a carnival or county fair. Hot dogs, elephant ears and funnel cakes were some of my favorite memories of eating from a truck.
But low and behold, what emerged was a whole new and different food movement. These trucks have marvelous, inventive chefs, who create beautiful food with delicious, fresh and local ingredients. The Purple Carrot Truck was the first food truck in Michigan using regional, seasonal produce totally embracing and becoming the embodiment of the think local, buy local mantra. The menus were something entirely different than what the typical fast food chains were offering and changing weekly. And it appears that the public is willing to spend a little more for good food. I also noticed that more and more folks were asking where the food trucks were scheduled to park on various days. And then, sadly, when the weather turned cold, the food trucks seemingly were put away until spring. That was then.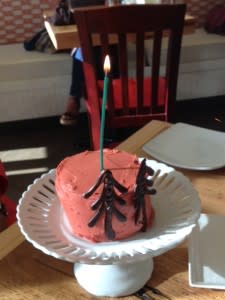 Greater Lansing is pleased to now have a number of great local food trucks. Even Michigan State University has climbed aboard the bandwagon. They currently have two trucks that rotate around the campus; the MSU Food Truck-Food For Thought and the Eat at State truck. It is with great delight that I've found some brick and mortar counterparts to trucks that are open year-round. I can find Trailer Parkd Slow Fast Food Truck out and about during warm weather and its restaurant mate Fork in the Road that is open twelve months of the year. Just recently The Purple Carrot Trucks owners have opened Red Haven, where I recently visited. What a great place! What I love about Red Haven is not only the atmosphere, and the coolness factor, but the small plates. They are a perfect size for sharing and if you were dining with some other people, you could sample a bit of almost everything on the menu. Pair that awesomeness with great wines and craft beers, and your dining experience becomes engaging, interesting and fun.
So hop on the food truck bandwagon. No elephant ears here. Experience some new cuisine thats new and exciting, fresh and local and completely original.
Know your farmer ~ Know your food