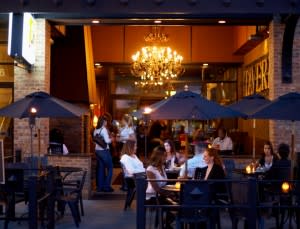 This time of year in Greater Lansing the weather is so nice; no one wants to be inside. From the parks and gardens to the rivertrail to the lawn seats of the Lansing Lugnuts, everyone is soaking up the sun as much as possible. In fact, the weather is so great people don't even want to go inside to eat. Just like when you were a kid, remember? You'd be outside running around and having the time of your life under the hot summer sun and all of a sudden you'd hear Mom yell, "Dinner's ready! C'mon and eat!" And while you were hungry (of course) this call for dinner meant an unwelcome break in the action, or the end of a fun outdoor game. Well here in Greater Lansing were lucky to have a whole bunch of outdoor eating options so people don't have to go inside to eat. From great lunches to al fresco dinners the following places are awesome spots to grab a table on the patio and enjoy the sun on your face while you stuff it.
The Brookshire Inn and Golf Club - Out in the surrounding community of Williamston the Brookshire has great food and a huge patio with a view of some of the best looking golf around. I highly recommend the steak!
Tavern on the Square - this is the place in the picture here to the left. A cool outside eating area with cool and trendy tapas-style dishes that will have you looking sheik and very "outside the bun".
Claddagh Irish Pub - Located in the Eastwood Towne Center Claddagh Irish Pub has great outdoor seating, tasty Irish brew and awesome food as well. From summery salads to the best fish and chips in Lansing this should be your spot for summer fun.
Crunchy's - An East Lansing staple, Crunchy's has great burgers, the famous bucket of beer and a patio scene that is totally awesome. Either do some people watching or read a book but no matter how you spend the time, you'll be in the place to be when the sun is out.
Dublin Square - More Irish fare but this one has an East Lansing address. They have a big deck with some sunny spots and some shady but the beers taste great no matter where you sit.
Edmund's Pastime - This is an awesome restaurant downtown, serving great breakfasts and lots of other stuff too. Scenic views of the Capitol and big time city hustle and bustle.
Nuthouse Sports Grill - Adjacent to Cooley Law School stadium the Nuthouse is a classic downtown summer bar. They have special events in the summer and the side parking area becomes an outdoor fun zone. Hop over and Enjoy!
Reno's Sports Bar & Grill - Reno's rocks - East or West. They have outdoor patio action that is truly top shelf. Watch the tigers, have a tropical drink with a friend and get some Jalapeo poppers - in my opinion, the best in the area.
Spartan Hall of Fame Cafe - this place is a Spartan classic and has an outdoor patio area that is just as awesome. A little breeze and some shade makes this place an awesome spot to sit, have a bite and a beverage. I recommend the BBQ Baby Back Ribs. Wow!
Waterfront Bar & Grill - This is a pretty new bar to the area and is the perfect thing to have just outside the doors of the Lansing City Market. Great views of the river and walk-able to the Lugnuts games, this is the up and coming place to be. Lots of craft brews on tap make it fun for a group to do some tasting.
The Knight Cap - While this has been a go-to place for a really long time for some of the best fine dining in Lansing its an often forgotten spot for a fantastic lunch! Sit outside and have a steak or one of the other great specialized items from this classic menu. While of course they have great lunch specials, like the Knight Cap Burger the Steak Medichi is absolutely one of a kind.
Troppo - This is the place to be seen in downtown Lansing. Come have a swanky lunch and look around for the lawyers, legislators and lobbyists that make the gears of politics turn in Michigans Capital City.
Bravo - Combine classic Italian cuisine with the awesome surroundings of Eastwood Towne Center and its open air lifestyle center shopping mall and you've got a lunch or an evening to remember - no matter if its two, or 20 of you.
El Azteco Restaurant - An East Lansing original, El Azteco, and specifically the roof, is outdoor eating Lansing-style. With the sun on your face and the sounds of live music and lively conversation below this is the place to spend an afternoon and enjoy the signature Topopo Salad, cheese dip and a pitcher of Margaritas.
Pablo's - Pablos is an Old Town Lansing classic and I love the chips and salsa there. Lots of fresh cilantro on the tacos makes the food here one of a kind and one of my favorite spots.