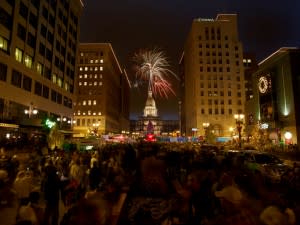 Are you a planner? My guess is that if you're already thinking about Lansing's big Holiday season kickoff event on November 21st, Silver Bells in the City - that you are. You like knowing whats in store; you like to have a plan for things and, to you, flying by the seat of your pants, doesn't sound exciting, it sounds like a wedgie at 5,000 feet. I hear you. I like to have a plan too, so for that reason, this blogger is going to lay out the full schedule of events for the big Silver Bells in the City event coming up on Friday, November 21st so you can have your plan for fun in place with plenty of time so you dont stress. A little holiday shopping, singing, some music and then the big show! Its a full night, so here we go:
Friday, November 21
Silver Bells Village 5:00-9:00 pm
The Silver Bells Village is the perfect place to start your holiday shopping, get some refreshments and purchase your 2013 Silver Bells commemorative ornament. The Village is located on the 100 E. Block of Allegan Street between South Washington Square and Grand Avenue.
Radio Disney 5:00-6:00 pm
Music, games and prizes on the steps of the Capitol 18th Annual Electric Light Parade Steps off at 6:00 pm
Corner at Lenawee and S. Washington Sq.
Bring the whole family to enjoy the Electric Light Parade. Over 70 units all decked out with thousands of lights, local High School Marching Bands, horse drawn carriages, the arrival of Santa and more!
Community Sing Approximately 7:20 pm
The Larry Callahan and Selected of God Choir will lead the sing. The two songs selected by the Lansing community for the sing are Silver Bells and Joy to the World. Learn more about the choir at www.selectedofgod.com.
Lighting Of the Official State Christmas Tree Approximately 7:35 pm The tree lighting takes place in front of the State Capitol. Fireworks Approximately 7:45 pm
Enjoy a dazzling fireworks display (weather permitting) over the Capitol dome. Live Broadcast 6:00-8:00 pm
The Silver Bells in the City Electric Light Parade is going to be broadcast LIVE on FOX 47, WKAR and local Comcast Channel 12 on 6:00-8:00 pm.
Replays on FOX 47 Thanksgiving Day, Nov. 27 from 6-8 am and 10 am 12 pm and Friday, Nov. 28 from 6-8 am.
Replays on WKAR WKAR World: Saturday Nov 22, 2:00 pm WKAR HD: Thursday Nov 27, 9:00 pm