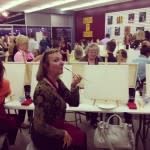 Ive discovered my inner artist (with a little help from Kendall-Jackson wineries) at the newly opened Painting With a Twist. Located in the Frandor Shopping Plaza, this studio invites you to come and learn step by step how to create your very own acrylic painting.
Bring a bottle in of your favorite beverage, take a seat at a blank canvas, and let a local artist lead you through the process. Painting With A Twist will provide you with the paints, the brushes and the blank canvas and you leave at the end with your very own masterpiece.
What I enjoyed about this experience were the super-fun instructors, who are equal parts teachers, coaches and therapists all rolled into one. And what I also loved was that everyones paintings turned out differently. I mean, we all were instructed how to paint, step by step this fall themed tree, but everyone put their own twist on it. Which is what art should be, right? So go look at their calendar and find either what evening works best for you OR choose the painting that you want to go home with and schedule your slot in that class. If you want to have a private party, then you can choose which painting you will be creating from a catalogue of over 1500 paintings. So let's raise a glass (or two) to creativity!!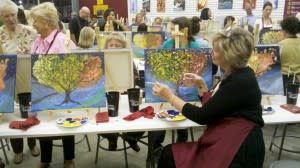 Its a little bit of paint,
a little bit of wine,
and a whole lot of fun!
Find Painting With A Twist at:
580 Frandor Ave., Lansing.
517-285-0013