If knowledge is power, and this blogger tends to think that it absolutely is, then visitors to the Greater Lansing area are about to get a big-time power boost. In a proactive move, strategically planned based on the opening of the Eli and Edythe Broad Art Museum, the Greater Lansing Convention and Visitors Bureau is opening an additional Visitor Information Center in the community. Now, in addition to the visitor information center currently located in the Stadium District in downtown Lansing, there will also be a Greater Lansing Visitor Information Center located in East Lansing, right across the street from the new Broad Art Museum. While the new center has been opened in an effort to educate and inspire the major influx of visitors to the region here to tour the new contemporary art museum, there is a lot more to the story. Yes, the Broad opening is big, and we're excited to educate all that come to see it about the many other things there are to see and do in the area but the visitor center will stand to serve many others as well.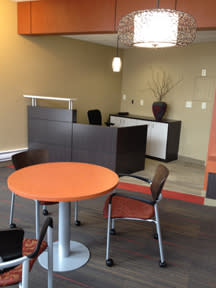 The growth of international students to Michigan State University has grown exponentially over the past three or four years and these international students and their visiting families have a ravenous appetite to get out and explore their new home away from home. Then, of course, don't forget about all those that come to East Lansing for a Spartan sports event. If, after the game, someone needs a recommendation on a restaurant, or advice on where to go shopping or see a play, the friendly staff of the visitor information center will be there to lend a hand. Right there in the middle of all that great East Lansing foot traffic! How about the bunches of annual conference attendees, or the entire youth soccer team here for a tournament that is out exploring East Lansing and wants to know how to get downtown, or where to find antiques, or an authentic Spartan basketball jersey, or the best pizza place for a large group? You guessed it. The visitor center will be there to help out, inform and convey knowledge. Visitor guides, regional attraction brochures, Wi-Fi and a friendly and informed staffer, at your service as tools for exploration. All the visitor information you could want means some serious knowledge. How's that for powerful?
The new 400 square foot staffed visitor information center is officially located at 549 East Grand River Avenue in East Lansing and will be open Tuesday through Saturday, 10 a.m. to 6 p.m. and Sunday, 11 a.m. to 3 p.m. Come check it out!