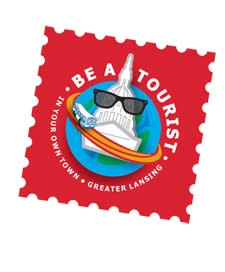 A special day is coming up for residents of the Greater Lansing area. That of course is June 2nd, the 18th annual Be A Tourist In Your Own Town event. As I'm sure you know already, this is the day that for just the cost of your $1dollar passport and 50 cents for CATA fare, you can see and do just about everything in town for the day. I mean it. Everything from arts to sports to education is on display and just waiting for you to explore. Now since there are over 60 participating attractions that day, its pretty unlikely that you'll be able to enjoy them all. That's why I recommend flipping through the Be A Tourist Passport in advance and coming up with a theme for your day. Consider the interests of those in your group and then come up with the attractions and affiliated bus routes and get a manageable set of stops in your sights and have at it come 10 a.m. Saturday June 2nd. In case you're new to the whole process I'll make a few suggestions.
Sports Nut - Start your day in rented shoes out at Royal Scot - bowl two games for free! Then head over to FunTyme Adventure Park and take the challenge of some awesome FREE adventure golf. After that jump into some rented skates and go a few laps at Edru Skate-A-Rama in Holt. Grab some lunch at a place on the way but be sure to round out the day with an awesome behind the scenes tour of the home of the Lansing Lugnuts, the Cooley Law School Stadium downtown. If there's time and you've got any energy, get over to Suburban Ice East Lansing for some laps around the rink! Flower Power - Greater Lansing and MSU Campus are full of beautiful and scenic spots. Take them all in on one day! Be sure to hit Cooley Gardens, LCC Shigematsu Gardens, MSU Horticulture Gardens, Demonstration Gardens and the Children's 4-H Gardens. History Buff - Check out all the awesome city and state history on display! Check out the State Capitol building, the Michigan Historical Museum, the RE Olds Transportation Museum, the Historical Society of Greater Lansing and the MSU Museum! Get Your Learn On - Need to smarten up? Make your day all about the Impression 5 Science Center, the Abrams Planetarium and the Meridian Historical Village. See all that in the morning and then load up on reading material at the Book Burrow, Curious Book Shop and the Downtown Lansing Library!
See what I mean? And this is just the beginning and my limited couple ofsuggestions. Come down to the Greater Lansing Visitor Center across from the Lugnuts stadium, buy your passports and sit around the dinner table and come up with YOUR plan! Make aattractions themethat pleases the whole group and when you're done touring the town on June 2nd you'll fall into your favorite chair, wipe your brow and exclaim - What a day!