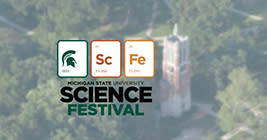 Science, and the investigation of the world around us, can be absolutely enlightening. The fun really begins when science has the ability to leave the text books and lectures and lands right in your hands - buzzing, blinking and sometimes dripping with goo. Science-lovers of all ages will be on the sprawling campus of Michigan State University April 1-6, 2014 for the annual Michigan State University Science Festival. Attendees will experience science like never before (I mean, is REAL science ever the same thing twice?!) with over 100 different hands-on activities and scientific demonstrations, seminars, exhibits and guided tours - best part of all, it's all free.
Be sure to check out an evening with Robert Krulwich, co-host of NPR's RadioLab and his presentation, 'Talking science to Non-Scientists: Saddham Hussein's Secret Octopus and Other Stories', Friday April 4th from 7-8 p.m. in the Kellogg Center, Big Ten Rooms B and C. Other festival highlights include SCIENCE IN THE CITY, which showcases the science behind several downtown East Lansing businesses (Saturday April 5, 6-9 p.m.) or AN AFTERNOON OF COMEDY & SCIENCE featuring science comedian Brian Malow and the popular "Say it in Seven" event in which MSU researchers present their research in a series of fast-paced talks (Sunday April 6, 3:30-5 p.m.). Add to that the dozens of "walk-up" hands-on exhibits sure to thrill and the Delta Dental Early Childhood Zone with fun science activities for preschool children, and you have a fun time sure to thrill, inspire and educate. Get more information at www.sciencefestival.msu.edu.
Physical science, earth science, computers - its all here, come feast your brain on education that's as exciting as the mystery of life itself. Science is all around us - come learn about the world around you!