If you loved following the parade of stylish clothes and accessories that the women of Downton Abbey wore, you noticed that in the last seasons they embraced the looks of the 1920's and the 'flapper era.' Fashion trended towards looser, shorter dresses and even short bobbed hair enhanced with either a headband or a tight fitting hat. This bell-shaped or "cloche" hat was representative of the freedom that women were embracing. Finally. The ability to vote. The liberation from body-contouring torturous corsets. Gone were the long heavy skirts and dresses.
The Freedom to Be You
It was a more boyish look that was linear and emulated the art deco style of architecture. In previous decades, women rarely cut their hair and wore it in an elaborate up-do with a hat perched upon it. The easy style of a bob meant that you could actually wear a hat that you could pull down over your hair and let it frame your face in an appealing manner. This type of hat was considered 'smart' or 'clever.' It also was a work of art. Cloche hats were usually decorated with small pins, feathers, ribbons or jewels. Apparently, if the correct system of colored ribbons adorned the hat in a certain way, it would signify that a woman was single and ready to mingle.
Up Cloche at the MSU Museum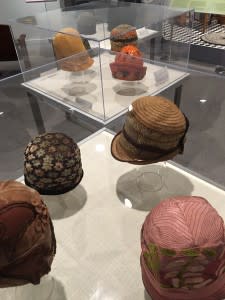 Among the many things to do, Lansing present MSU Museum's Heritage Gallery, which is set up with multiple display cases showcasing a number of smart and clever cloche hats from their collection. Visitors can find not only hats and hat forms, but also a depiction of a 1920s dorm room, some fabulous examples of beaded flapper-style dresses and some great early black and white movie clips. And lots and lots of hats. Go take a look. Up cloche and personal. One of the most interesting things to do, Lansing is excited to share.
Up Cloche Fashion, Feminism, Modernity
Running through August 30, 2016 at the MSU Museum.
409 W. Circle Dr., East Lansing, MI.
Cloche | Definition of Cloche by Merriam-Webster
Merriam‑Webster
The word cloche refers to very different things but the connection between them is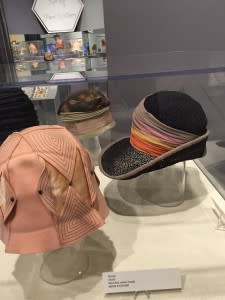 apparent in the word's meaning: "cloche" is French for bell, and both the gardening cloche and the hat cloche are typically shaped like the archetypal bell.
With over 150 things to do, Lansing awaits your adventurous spirit! With only 48 hours in a weekend, the clock is ticking. Download the LAN150 Bucket List to get started.
During your weekend full of things to do, Lansing will serve as a wonderfully hospitable and exciting destination so much that you'll have to come again!