I received an invitation in the mail to the MSU Museum Chocolate Party Benefit slated for Sunday February 26th. Now really, I ask you. How can I say no to an event that celebrates Chocolate with a capital C?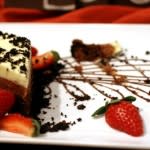 The Chocolate Party is not only a celebration of my favorite food group, its actually a competition for chocolate masterpieces and includes samplings of chocolate from Lansing area chocolate aficionados. Just go ahead and wipe up the drool behind me. And listen to this. Each vendor brings between 600 and 1,000 pieces. Multiply that by x number of vendors and you get close to 10,000 samples handed out during the event.
And the bonus? There will be milk to drink. I dont know about you, but this would be my first choice of beverage. I guess my second is coffee. Third is wine, and thats just because a wine buzz and a chocolate buzz together just might be the ultimate high.
And I must mention that it all benefits the MSU Museum, which is a very cool place to visit. Its open seven days a week and is a Smithsonian affiliate. Heres some more info from the website as to where the proceeds go.
"In this popular mid-winter event, foodies and museum friends alike indulge for a worthy cause: the Chocolate Party benefits care and preservation of the extensive cultural and natural science collections of the MSU Museum. The MSU Museum stewards nearly 1 million objects, artifacts and specimens, which are housed in four buildings across the MSU campus -- many dating back to the museum's founding more than 150 years ago. Recently, Chocolate Party proceeds have helped with the purchase of items such as protective cabinets and preservation equipment.
Tickets are $30 for the general public and $25 for MSU Museum members in advance, and $35 at the door. (The Kellogg Center is located on Harrison Road on Michigan State University's campus.) A special "Premier Chocolatier" ticket for $75 offers an advance preview of Chocolate Party creations and a year-long MSU Museum membership."
So I encourage you to indulge in probably one of the sweetest events in Greater Lansing. Someone very wise once said, Chocolate, unlike love, never disappoints you.
Heres some of my other favorite things at the MSU Museum:
Darwin Discovery Day.Everyone know that Darwin rocks, right?
The Wanamaker Collection. An amazing collection of Native American images from 1908-1923.
And online check out the Avian Vocalization Center. Bird sounds from around the worldthatsoothemy innerbirding nerd.