For so many reasons it's a fantastic thing to live near a Big Ten college town. Sure there is the fun of a home football Saturday and yes, there is the buzz each fall when a crop of new students come in to make our home their new home-away-from-home, but the thing I think is the best about living near a college town is the community assets that the university puts at our doorstep. Here in East Lansing, better known as Spartan Country, that means everything from Wharton Center, Abrams Planetarium and the Broad Art Museum to the MSU Dairy Store, the Beal Botanical Gardens and of course, Spartan athletics. Along with these great assets come many more, including truly best-of-class meeting and event facilities that all conference and planning professionals should know about.




Campus Classics

The first few meeting and event properties that come to mind are the easy ones – university assets that have been long-trusted venues to planners for ages. The 254,000 square foot Breslin Center offers seating capacity for 16,000 with 19,000 square feet of exhibit space and a 29,000 square foot concourse area. The adjacent Kellogg Hotel and Conference Center offers not only guestrooms but an additional thirty-two meeting rooms, the largest being the 12,000 square foot ball room.
In addition, MSU offers different kinds of event facilities like the MSU Pavilion. Pavilion facilities include a 2,000-seat indoor arena with 24,396 square feet of floor space, used for trade shows, concerts, sporting events, livestock shows and other events; a 364-seat auditorium for meetings and livestock auctions; and a 77,131-square-foot exhibit hall for trade shows, conventions and other events.



The complex also contains 2,930 square feet of meeting rooms (there are three meeting rooms that can divide into four meeting rooms.) The complex also features a 10-kilowatt solar power photovoltaic system, a state-of-the-art sound system, a campground with space for 96 campsites; and parking for 1,500 cars. Additionally, the Henry Center for Executive Development brings the best of MSU to one complex with over 30 high-tech meeting rooms combined with the resort-style amenities of the University Club, Forest Akers Golf Course and the 128-guestroom Candlewood Suites.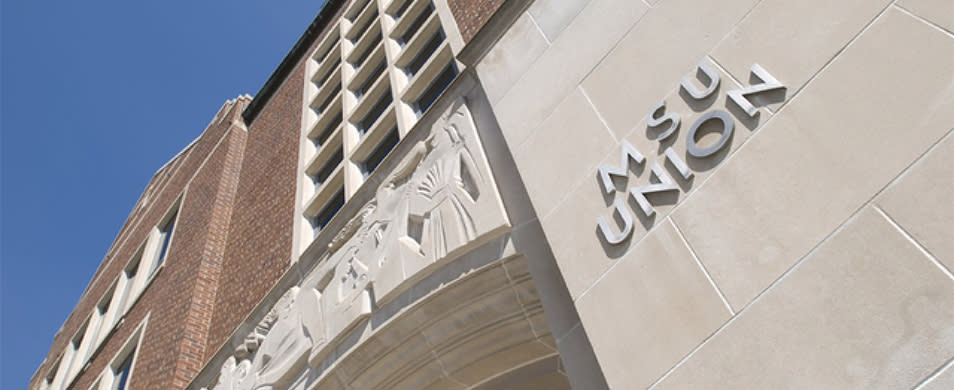 More Great MSU Venues

Still not enough options? What about a campus classic like the MSU Union? Centrally located on campus, Union ballrooms and classrooms can make an event to remember. Additionally, The Huntington Club, located on the 4th floor of Spartan Stadium, offers a host of amenities designed to provide the ultimate Spartan experience. Club seats are open to the stadium, while at the same time covered and heated in inclement weather. The suite area has 18,500 square feet with comfortable living room style furniture, multiple TVs, private restrooms, and elevator access. Maybe you want to make the most of outdoor weather for your event? Look no further than the great gardens on MSU campus, whether its the 4H Children's Gardens, the Beal Botanical Gardens or the MSU Demonstration Gardens. how about an event in a building we call, "The house that Magic built"? The Jenison Fieldhouse, once home to MSU basketball and current home to Women's volleyball and Men's Wrestling, is a 6,000 seat arena-style venue full of Spartan history.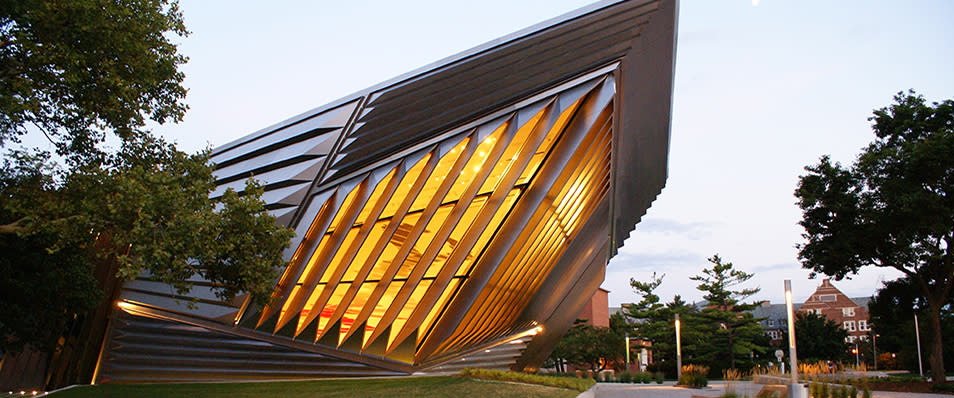 A staple in East Lansing since 2012, the Eli & Edythe Broad Art Museum offers an open floor plan, perfect for events and 24,000 square feet of exhibit space. The building, designed by world-renowned architect Zaha Hadid, has a personality all its own and was even featured in the major motion picture Batman Versus Superman: Dawn of Justice in 2016. If you're looking for something less formal, and a venue where attendees can get a chance to get their hands dirty, try the Broad Art Lab across the street. Its hands-on, creative, lab-style workshop space - Spartan style. Also on campus, The Wharton Center for Performing Arts not only offers first-class Broadway performances, but has show-stopping event space as well. The Wolfram Green room offers seating for 60 people as well as the Jackson Donor Lounge (room for 250 people), the Christman Lounge (up to 140 people) and the Grand Foyer just outside the Great Cobb Hall, offering room for up to 800 people.
Maybe you have your sights set on a brand new facility? How about extensive meeting and classrooms at the one-of-a-kind MSU FRIB (Facility for Rare Isotope Beams) Facility? Also new on campus is the state-of-the-art 100,000 square foot Minskoff Facility.



Simply put, the Edward J. Minskoff Pavilion, cements Michigan State University's position as a top-of-mind business school, and seeks to enhance the Broad student experience through its design around community, collaboration and teamwork. Higher education as we know it is changing, and this structure is putting MSU ahead of the curve with flexible classrooms, energy-efficient spaces and cutting-edge technology.
Legendary Lodging with More on the way
Already mentioned above was the Kellogg Hotel and Conference Center, offering event space and lodging for meetings and conventions, but its far from the only option. Mere footsteps from campus is the East Lansing Marriott at University Place offering 182 guestrooms and both classroom and ballroom meeting space (ten total meeting rooms, the largest is 4,400 square feet) right on site. In addition to these longtime lodging options are several exciting new hotel products. The Springhill Suites by Marriott East Lansing is a new hotel development recently completed on the lively Trowbridge road corridor in East Lansing. Just a short walk from MSU campus the location offers guests premium access to the university and Greater Lansing as a whole. The 88-guest room all suite hotel offers daily complimentary breakfast, indoor pool, fitness center and a 323-square-foot space perfect for a group of 20-30 individuals. Hotel projects underway include the 10-story, Graduate Hotel, a 194-room ground-up hotel development under construction in downtown East Lansing set for completion in Fall 2020.  The hotel will be steps from Michigan State University's campus, including the MSU Union, and a 10-minute walk from Spartan Stadium. The hotel's lobby will provide space for guests and locals to socialize, relax and study, while the rooftop bar will offer views of MSU's campus. The Graduate hotel will include more than 5,000 square feet of meeting and event space with restaurant and retail space on the ground floor for lease.

The East Lansing of Tomorrow
Additional regional enthusiasm surrounds the high-profile Red Cedar Development, a multi-building complex that has been on the drawing board for over five years. The shuddered municipal Red Cedar Golf Course is the proposed future site of a $250 million, six-building development project. The plan will establish the largest mixed-use development tax base for a single project in Lansing's history. The project is at an ideal location with ready access to freeways, work and play and when completed, the local community can expect a new vibrancy and major economic impact. Bridging education, government, health care and community together Red Cedar project can serve as a long-needed connector from the state Capitol to Michigan State University. The project plan includes multi-generational housing, two hotels, and an assisted living and memory-care facility. Plans also call for restaurants, retail space, an amphitheater and a public park.
Why not take advantage of these great facilities, and this great campus, for your next event?

Reach out to a Greater Lansing CVB Sales Manager today. Let's get started planning together.