It's that time of year again! What exactly do I mean by that? A couple things, actually. It's that time again for two big things. One is lots of very cold days with weather that makes you want to be outside maybe just long enough to get the mail and walk the dog. Okay, just walk the dog, you can get the mail tomorrow. It gets dark early and the wind is whipping around and being outside is just not comfortable. The other big thing going on this time of year is lots and lots of great movies in the theaters. You see the people in Hollywood are smart. They know that around the holidays and when the weather is brisk throughout the Midwest and the eastern United States, that people have more time than usual to sit in the dark, eat popcorn and watch good looking people do amazing things on the silver screen.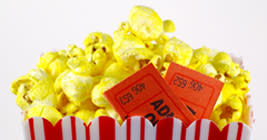 So yes, it's freezing outside and yes, the theaters are full of awesome movies. Are you getting my simple point? You got it! Get out to the movies! Escape from the everyday and slip magically into another world full of humor, amazing landscapes, action, adventure or whatever you like out of a good film. Lucky for all of us, both residents and visitors to the region, the Greater Lansing area is full of awesome venues to watch a movie.
Check out these awesome places to grab a huge pop a giant tub of salty, buttery deliciousness and disappear for a few hours.
NCG Cinemas at Eastwood Towne Center is on the North/East side of Lansing and is an awesome experience, also because its surrounded by great restaurants and shopping for after the movie. Celebration Cinema is on the South side of Lansing and has tons of awesome theaters, including an amazing IMAX experience. Brand new to the area is the Studio C!, located near the Meridian Mall in Okemos. This theater offers everything you get at a traditional theater, but come hungry for a meal! This specialized movie experience gives you a great flick, an awesome meal and premium comfort all at once!
Look, I think you have earned a break from the everyday - especially when in mid-January; the "everyday" includes 20-degree temps, zero wind-chill and a driveway that needs shoveling. Grab your best friend, jump in the car and escape to a movie!