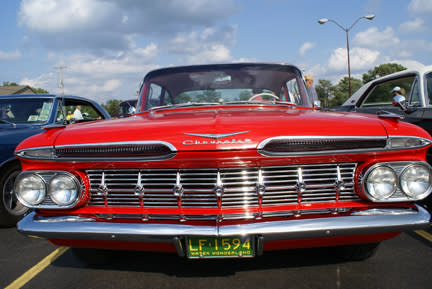 It doesn't take long to learn that Greater Lansing loves its cars. As a big-time GM town and the birthplace of Oldsmobile, motor oil is in our blood. Trust me - that's not as unhealthy as it sounds. Growing up here I remember one day in third grade we went around the class and everyone said what their parents jobs were. About 60% of the parents of my classmates worked for GM, another 30% worked for State Government and 10% or so worked for Michigan State University. In the 1980's around here everybody had a Cutlass and they ran so long that they were given over to the teenagers to drive once they got of age in the early 1990's. Some things have changed, certainly the automotive industry has taken its lumps, but it has also shown exciting growth. Fisher Body and the GM Craft Centre might be gone, but we're still the proud maker of Cadillac at the Grand River Plant and the Buick Enclave out at the state-of-the-art General Motors Delta Township Plant.
A few times a year (especially in the summer when its warm and sweet cars get a chance to get out from under tarps) we get a chance to slow down and look back at what we've done and where we've been in terms of Greater Lansing's proud automotive history. One of those times is coming right up this weekend, July 28th at the Car Capital Celebration, put on by the RE Olds Transportation Museum. You see, around here, cars are more than just a way to get from point A to point B. Cars are a symbol of personal style, local pride and shiny red, chrome and leather trophies celebrating Classic American Know-How. For some looking at an old car can instantly put them back in time. Maybe to a first date, or a treasured family vehicle or a dream car that may someday be a reality. Around here, cars are part of who we are - come see Lansing at the Car Capital Celebration, where our local pride can go from 0 to 60 in 10 seconds or less.
Car Capital Celebration - July 28, 2012 Lansing (517) 372-0529 http://www.reoldsmuseum.org/ This free car show celebrates Lansing's automotive history and features over 200 classic cars, muscle cars and collectible vehicles. All makes and models welcome. Food Vendors, Exhibitors and DJ on site.