Michigan Trails Week September 21-28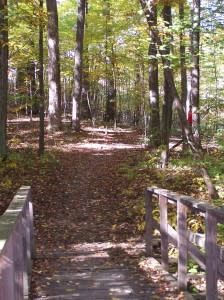 This month, Gov. Rick Snyder proclaimed the recreational, health and economic benefits of the states trail system with his second annual proclamation of Michigan Trails Week. In his proclamation, the governor states that the trail system provides several billion dollars to Michigans economy and a low-cost means to improve individual health, which can, in return, reduce health care costs.
Michigan is a national leader in the number of miles of trails, providing tremendous outdoor recreation opportunities and substantial benefits to the states economy, said DNR Director Keith Creagh. From our states extensive inland water opportunities to more than 3,800 miles of trails used by off-road enthusiasts, Michigan is home to a unique variety and quantity of trails. Trails are resources to be celebrated not just during Michigan Trails Week, but all year long.
Get out and enjoy our Greater Lansing offerings of great trails. Sleepy Hollow State Park has a beautiful 16 mile hiking/walking/running trail. The 2,600 acre park is located just 20 minutes north of Lansing with a river running through it and Lake Ovid nestled in the middle. Along with hiking, horseback riding trails, fishing, mountain biking and disc golf are available here and this state park is a Pure Michigan destination in the middle of the mitten. And when the winter is upon us, this is a great spot for cross-country skiing.
This year marks the 20th anniversary of National Public Lands Day. Access to Michigan state parks normally requires a Recreation Passport however as a celebration, the admission fee to the state parks will be waived on Saturday, September 28th. So get out and enjoy one of Michigans natural gems-Sleepy Hollow State Park.
FYI: Wednesday, September 25, Sleepy Hollow hosts a class on the best form for running trails called Fresh Air Fit-Trail Form Running.
Other great trails in the Lansing area include the Lansing River Trail, Lake Lansing Parks, East Lansings trail system and more. When the air is crisp and cool, theres nothing better than getting out and taking in the fall colors during a lovely walk, hike or bike ride. Get out and enjoy!