It's even more frightening to me when SMART people get scared. You know what I mean. It's easy to scare a bunch of teenagers camping, like in some slasher movie, but when educated paranormal experts share with you their darkest fears, the creepiness is just that much more believable. I know this blog is maybe more suitable for late October but because the Michigan Paranormal Research Association is doing a special presentation at the East Lansing Public Library this coming January 30th, I had to move up the SCARE a few months - hope you don't mind.
So yes, you heard me right, come join the Michigan Paranormal Research Association (MPRA) on January 30, 2012 from 5:30pm-7:30pm for an exciting and spooky presentation on the paranormal at the East Lansing Public Library!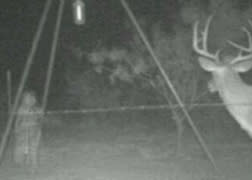 MPRA's Samantha Harris and Kyle Gask-Wilson will be sharing their best evidence, reviewing information, theories and technology used during investigations, and discussing the removal of hauntings! A short docu-drama featuring MPRA will also be played for the audience. Harris and Gask-Wilson specialize in demonology and have over 12 years of research of paranormal. MPRA has been featured on the Travel Channel's "Most Terrifying Places in America", was offered the direct sequel to A&E's Paranormal State and has been featured in numerous news articles, interviews and radio appearances. DVD's on how to remove hauntings will also be available for sale!
After the MPRA shows you all of the evidence and case history you'll walk out of the East Lansing Public Library sounding like the Cowardly Lion from the Wizard of Oz - "I do believe in spooks, I do believe in spooks, I do , I do I do..."
Michigan Paranormal Research Association January 30, 2012 - January 30, 2012 Location: East Lansing Public Library Address: 950 Abbot Road, East Lansing, MI 48823 Times: From: 5:30 PM to 7:30 PM Admission: $8.00. Limited to 100 tickets!
**Bloggers Note: Check the creepy picture! A Michigan hunter set up a camera at his bait pile to see if he was getting deer eating his corn, or merely raccoons and crows, etc. He had it set to take a photo every half hour or so. This picture was snapped at past one in the morning in the middle of the woods in the winter. Imagine the hunters surprise when he went to check the photos and saw not only a 10-point buck, but what seems to be the ghost of a little girl on the camera! This is no official endorsement, Im not saying this is real, mind you, I'm just saying it could be...Sounds like a case for the MPRA - check them out!