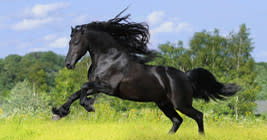 I swear there is no more noble and dignified animal as a horse. Loyal helpers to humankind and a general thing of athletic beauty, appreciating a horse is easy and lucky for those in Greater Lansing this weekend, there is now an excellent forum to do just that! It's the Michigan Horse Expo, going on at the MSU Pavilion on Farm Lane in East Lansing. This event is now in its great 30th year and it is THE place to be to see amazingly beautiful horses of every make and model. As one of the three biggest horse expos in the United States you'll be among the best horses you'll ever see. What do you need to feel good about the return of spring? What is the animal you always are moved by when you see them in their full splendor? Why it's a horse, of course!
March 08, 2013 - March 10, 2013 (Recurring daily) Venue: MSU Pavilion Address: 4301 Farm Lane, East Lansing, MI 48824 Times: Varies Admission: Varies Contact: Marilyn Graff, Administrator 231-821-2487 Visit Website Send Email
The International Stallion Exhibition and Trade Show (Michigan Horse Expo) has been going strong since 1984 and this year 2013 we hope you help us celebrate our 30th anniversary! The Michigan Horse Expo is one of the top three-day horse expos in the country. It is now held at the Michigan State University Livestock Pavilion in East Lansing, Michigan.