It's hunting season once again, and while Michigan is a known hot-bed for deer hunting, the act of hunting sometimes leaves significant others with a lot of time on their hands. What do you do if you find yourself a "Deer Widow"? Take this advice from today's guest blogger, Emily Miller.
For some people, men in particular, opening day of deer hunting season marks a time of excitement. The anticipation is running especially high since they just spent an entire year strategically placing salt blocks throughout the woods, carefully crafting food-plot menus of all the deers favorites and stalking monitoring the whereabouts of every known deer in the neighborhood by means of hidden trail cameras.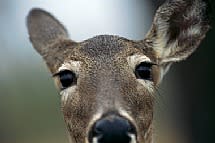 For the other half, this time marks a period where they experience a sudden onset of symptoms that includes: increased rolling of the eyes, yawning, feelings of loneliness and perhaps the occasional unexplained bouts of anger. These symptoms are quite common and tend to develop predominately in females. If youre a woman and have experienced such symptoms, dont be alarmed - you are not alone. You and many others have just fallen victim to what is commonly known as being a Deer Widow.
This year, we suggest you take action and stop the madness before it even starts. How do I do this you ask? We have three words for you: Girls Day Out. Taking some time to get out of the house with a group of girlfriends is a sure way to combat feeling like a Deer Widow. Here are three great activities to make sure you dont even notice the eerie silence in the house.
1.) Catch a show. We suggest seeing a Broadway performance. Mamma Mia! just so happens to start playing at the Wharton Center for Performing Arts starting on Nov. 15 (opening day.) Coincidence? We think not. If youd rather see a traditional movie, Studio C! is a great place to check out. Where else can you dine and watch a movie at the same time? 2.) Pamper yourself. With the weather cooling down considerably, might we suggest a hot rock massage? Now, dont just stop there though. While youre enjoying your massage make sure to follow these steps. 1) Close your eyes 2) Imagine how much your husband is out freezing his keester off in a deer blind. 3) Smile 4) Repeat. Then while youre at it, why not have your nails done or maybe everyone can get a new hairstyle for the holiday season? No need to run all over town either because Douglas J Salon is a one-stop-shop for all of the above. 3.) Go out hunting - bargain hunting that is. Wait, you say your husband doesnt really want you to spend any extra money? Now lets stop for just a minute. How much money did he spend this year on guns, hunting clothes, deer feed, tree stands, salt blocks, may I go on? Youre welcome. Now head over to the Eastwood Towne Center because it has a variety of shops and you and each of your friends will find something they love.
Following any one of these steps, or all, is a sure-fire way for you to beat the Deer Widow blues this year. We promise, they all will work. We would love to see how you decide to combat being a Deer Widow this year. Share your photos with us on Instragram with #deerwidows and #lovelansing.