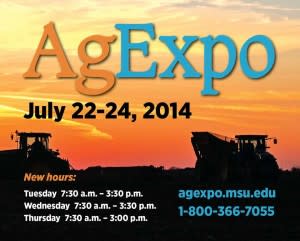 We all eat food, right? And food comes from farms, right? I mean, even I know that the beef thats all cello-wrapped at the local Meijer was once a cow grazing in a field. And my corn on the cob comes from a corn stalk standing in a field. And I would think that farmers know what theyre doing to make that all happen. But it takes more than sheer luck for a farmer to grow and nurture good food from seed to product. Of course rainfall, temperatures and other weather-related issues are totally out of their hands, but planting, maintaining, harvesting and getting the food to market is a farmers job. And each year, innovation, experimentation and tried and true methods dictate the profitability of that. Dairy, grain, beef cattle, beans and corn all require proper equipment and the latest research. So the farmers need a gathering place to learn and be exposed to the latest news and innovations.
The Michigan Ag Expo is in town this week Tuesday through Thursday with a big show going on at the MSU Agricultural Pavilion. If you have kids that have never seen farm machinery, or kids that cant get enough of tractors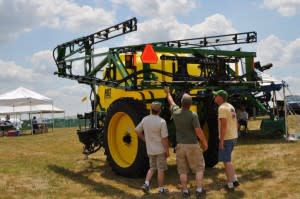 and combines, or you are a grown up that covets all the field equipment, then you wont want to miss checking this exposition out. You can find not only the latest tractor equipment, the best seed varieties, but also demonstrations in everything from auger safety to my favorite thing to go watch the herding dog (stock dog) demonstrations. Of course you may be thinking that farming is pretty old fashioned and a bit archaic, but imagine that with the latest technology involving drones, present day farmers can use this to view their fields and manage their crops. Since Michigan State University was the first land grant college in America, I think that this is the perfect location to find out how research and innovation are key to agricultural progress.
With over 200 exhibitors, this show is fascinating even to a city-slicker, non-farmer like me. I suggest that you go and visit and see the research and new technology and equipment that our food producers are using to get your food to your table.
What: Michigan Agricultural Equipment Exposition (MI Ag Expo)
When: Tues. July 22 & Wed. July 23 from 7:30 a.m. - 3:30 p.m., Thurs. July 24 from 7:30 a.m. - 3:00 p.m.
Where: MSU Pavilion (corner of Mt. Hope and Farm Lane) East Lansing, MI