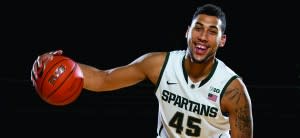 It's NCAA Tournament time and of course, Michigan State is dancing once again. Of course they are! Tom Izzo is known as Mr. March and gets the team focused and hungry for a deep tournament run every year including a Big Ten Tournament win this year, capped off Sunday in Indianapolis. The Spartans knocked off Purdue to pick up another Big Ten Tournament crown and it got me all fired up for the big national tournament which of course kicks off Tuesday with the play-in/First Four games, and fires up in earnest on Thursday (also St Patrick's Day). As a #2 seed in the Midwest division the Spartans have some tough teams to battle through to make it to the 10th Final Four in school history – and hopefully, beyond. So yes, March Madness is back and spring is right around the corner so there is a lot to be happy about, but before you get too delirious about all the amazing hoop headed your way, what is your plan for watching these big games? Maybe you have something set and maybe you don't but I'll promise you this, these games are too good to watch alone! Here are my top five places in Greater Lansing to catch the big game – whether it's the Spartans (who face off against Middle Tennessee State on Friday) or any of the other exciting tournament action going on from this week all the way to the championship game on April 4th.
Buffalo Wild Wings East and West
I'm a huge fan of wings, so this is a food choice as well as an atmosphere pick but even if you're nuts and don't like wings, Buffalo Wild Wings has a big menu with a lot of other items and literally a TV everywhere you look. Lansing now has two sweet locations, one on campus and one on the West side. Both spots are great. Campus is a bit livelier and loud, naturally, West side has free parking right outside.
The Pizza House
When was the last time you were at the Pizza House? If it's been a while, you've never really been there. This place has gone through a ton of changes in the last few years and is now both HUGE and an awesome place to watch a big game. TV's everywhere, great service and of course amazing pizza. Like Chicago Style? They are the only people in town who serve it.
Reno's Sports Bar and Grill
Here's another Lansing sports bar staple that offers East and West options. Both convenient locations offer on-site parking great menus and excellent service. Reno's is one of those places where the management is savvy about big games so they know what to be running on what TV and when, some with volume on, some muted. I guess I'm saying you won't go into Reno's for the tournament games and they're playing a poker tournament on all the TV's. They get it.
Spartan Hall of Fame Cafe
The Spartan Hall of Fame is the location to be Spartan proud. From the fight song played over the loudspeakers to the incredible and one-of-a-kind unique decor the whole experience feels like a Spartan home game. The menu is incredible and there's not a bad seat in the house for watching the games. If you're going to only watch one tournament game out at the bar, make it a State game at the Hall of Fame Cafe.
The Nuthouse Sports Grill 
The Nuthouse has been a sports go-to for a long time now and it's an excellent place to find yourself during NCAA tournament time. With some of the early first round games going on during the week day I always find myself headed to the Nuthouse for lunch to watch the tournament get started. That to me is the part that's the most fun, the first two days. Games going on back to back to back and upsets coming in like crazy.
So those are my top places in town to watch the NCAA Tournament games, now it's on you to get out and check them out over the next few weeks. Who's ready for March Madness?! I know I am! Let's go Spartans!