When the daytime temperatures start to warm and the nights are still cold, its time to tap the maple trees and make some maple syrup. Head on out to Fenner Nature Center on Mt. Hope Rd. this weekend and enjoy the Maple Syrup Festival. Its this Saturday and Sunday, March 17th & 18th from 11 a.m.-4 p.m. and its free! And this year, stick around on Saturday for their first ever Flapjacks for Fenner from 4-7 p.m. It's a fundraiser that combines the goodness of pancakes and the goodness of beer. I cant wait to try THAT combination. It sounds delicious.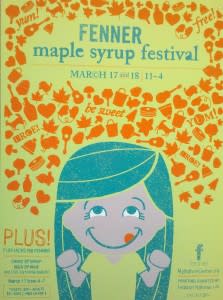 Here are some fun maple syrup facts:
Michigan ranks 5th in Maple Syrup Production in the U.S.
It takes approximately 40 gallons of maple sap to make 1 gallon of syrup
Maple Syrup is only produced in North America where weather and terrain conditions are perfect!
A maple syrup production farm is called a "sugar bush"
Sap is often boiled in a "sugar house" (also known as a "sugar shack")
Maple Syrup is not only used as a topping for waffles, pancakes and oatmeal, it can also be used as a sweetener for applesauce, baked beans, candied sweet potatoes, winter squash, cakes, pies, breads, fudge and other candy, milkshakes, tea, coffee, and hot toddies.
Owing to the sugar maple tree's predominance in southeastern Canada (where Europeans settled in what was to become Canada), the maple leaf has come to symbolize Canada, thus the big red maple leaf on its flag.
Maple syrup has a number of nutritional benefits for humans. It is low in fructose compared to other popular sweeteners such as high-fructose corn syrup and agave syrup .
Maple syrup is an excellent source of the trace mineral manganese and is also a good source of zinc.
Maple syrup" must be made entirely from maple sap "Maple-flavored" syrups contain maple, but also other (cheaper) ingredients like high-fructose corn syrup. "Pancake syrup", "waffle syrup", "table syrup", and similarly-named syrups are imitations, which are less expensive than real maple syrup.
Fennerplus flapjacks. FUN.
Add maple syrup. Thats even funner.
Add beer. Thats just Fenner-licious!