Summer is concert season in the mid-Michigan area and from time to time, musical acts treat concert-goers to more than great music and a good time. Sometimes they really leave a powerful and positive impression.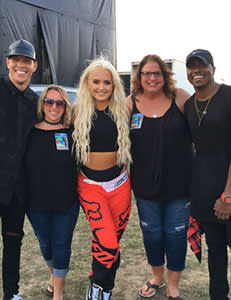 Stylish, sophisticated, talented, classy, influential and chic: these are just a few words that come to mind after having the privilege of experiencing up and coming pop artist, Macy Kate, in concert at the Jackson County Fair on August 8th. I also had the honor of being able to speak with the gifted, 19-year-old from St Petersburg, Florida and quickly learned how grounded she is in her humble intent and purpose to influence the younger generations of Millennials and Generation Z. "Be yourself and never give up on your dreams."
Macy Kate became an instant fan favorite on the first season of ABC's reality competition, Rising Star, at just 16-years-old and later gained an enormous following on her YouTube channel macykatemusic when her cover of the Imagine Dragon's song "Radioactive" went viral. This young lady blew me away with her ease of professionalism and entertainment abilities on stage, not to mention her incredible, and holy cow do I mean INCREDIBLE, vocals!
Macy Kate describes the blessings and tremendous love that she has starting first with her committed following of music fans that have been coined as MacyNators; fans that have put her in an impressive position within the biggest social media influencers. She continually stays mindful of her young audience and the impact she has by keeping her music and lyrics 'generation sensitive' to what young people are dealing with, living through and struggling in on a day to day basis.
She describes her most iconic moment in her life thus far when she performed "Wild Ones" with FloRida in packed out show in Wembley Stadium located in Wembley, London, England in 2015. She graciously gives thanks to Flo and the opportunities he has provided. It is that Macy Kate grace and humbleness that has turned me into an instant MacyNator. The world is fortunate to have such a positive role model and example to all and indeed the emerging Macy Kate WILL go far!
Summer isn't over yet! Explore and discover even more great live summer music under the sun on our robust festivals and events page!
Photo shows left to right: A dancer in Macy Kate's crew, Heather Cooper-Kim, GLCVB Sales Manager, Macy Kate, Kristina Kauffman, GLCVB Visitor Services & CTA Coordinator and Marcus Majors, a dancer on Macy Kate's crew.