Well it's officially the middle of April and while we've seen a few signs of spring (the return of the Lansing Lugnuts, the sound of birds at our parks and other natural areas, etc) we're still waiting for true spring weather here in Greater Lansing. We've had a lot of cloudy, windy and 50 degree days, when we've been hoping and expecting days far more sunny and the 60's. It doesn't sound like a big difference, but it really is - we've been through a tough winter and everybody is ready to see the sun. See it and feel it. We're at the start of spring but we've still got cool weather that has a wintery feel and it has us all wondering, "where is the warmth of spring? When will it be, what I call, 'Tin Can' weather? What is Tin Can weather, you ask?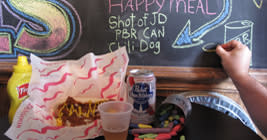 Well, here in downtown Lansing we have a small local bar called the Tin Can. It isn't fancy, they don't pour amazing, unusual drinks and you won't find a meal there that would earn the approval of Gordon Ramsay. And that's just exactly why I like it so much. This casual, non-assuming establishment serves everyday brew to an everyday crew, and to me, it always reminds me of warm weather and just feeling good. They are located about 200 yards from home plate of Cooley Law School Stadium and the summer brings a steady stream of happy patrons. The Tin Can, of course, offers all their beers in unpretentious cans, and they have everything from your run of the mill classics to some really hard to find stuff. You'll hear it often said, "I didn't know that came in a can?!" They also offer some tasty shots if you're not all about beer.
The Tin Can also has a huge outdoor deck that is great for soaking up the sun and people watching. Because this is just down the road from where I work, it's the kind of place friends from work will suggest to meet up for a beverage on Friday at a little after quitting time to rehash the week and talk about weekend plans. It's just "that kind" of place, and it belongs right where it is - the only thing missing, to me, is that lovely spring weather to go along with it. Sunny and warm weather is a backdrop for the Tin Can that just fits, and the anticipation waiting for it is kind of killing me. The good news is this kind of weather IS coming, and a lot of good times at the Tin Can are still ahead of me. I guess they say anticipation is sweeter than the actual thing, and that may be true. But I will say this. Mother Nature? If you'd go ahead and warm things up, just a little bit, I'd be happy to buy you a drink - at the Tin Can in downtown Lansing, of course. Give it some thought. I'll be waiting. While we wait for Mother Nature's response, if you haven't been to the Tin Can, you've got to check it out, rain or shine.