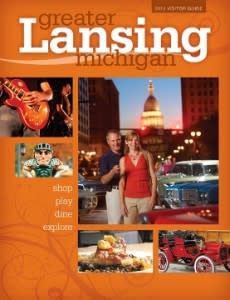 I want to hand out cigars. Weve given birth to our new 2012 Visitor Guide and it truly feels like 9 months of nurturing, tweaking, deciding on design and content and then a week of labor pains while we wait to see the final product delivered to us. Of course, to the visiting public, its just a magazine that helps them decide on dining, shopping, attractions and of course accommodations. Little do they know that every photo, every swirl and design element and even every listing word by word was checked, and double checked. And like life, just when you think youve got the world by the tail, reality sets in and things change. Like a hotel or hospital name. Or a place goes out of business. Or admission charges get changed. We live in an ever changing world. So I want to say that as of the date of printing, I believe everything was correct
Here are a few things that you might find interesting.
The cover shot compilation includes all things dear to Greater Lansings (and my) heart. Cars, festivals, food, music and the big green guy-Sparty. And just so you know, thats my good friend Michelle in the red top but thats not her husband with her. Hes blurry in the back with the wife of the man thats standingnext toMichelle. Consider it a professional photographers license to mix and match people depending on height, clothing colors, etc. I also want to thank the owners of the gorgeouscars who stayed later than the Car Capital event ran so we could do the shoot as twilight was approaching.
The photo shoot in the sports and leisure section ended with a capsized kayaker and a monster splinter from the River Trail boardwalk. Sorry Rachel.
Im really excited about the dual coat finish on the cover this year. Yes, were fancy.
And this guide is perfect bound, so it has a printed spine. Yep. Super fancy.
130,000 of the 80-page guides were printed and you can find them at:
All MDOT Michigan Welcome Centers
Meridian Mall display rack near the food court, and coming soon will be a display at the Lansing Mall
Eastwood Towne Center office
Preuss Pets in Old Town
All area hotels, and bed & breakfasts, and campgrounds
Silver & Beyond in the East Lansing Marriott lobby
Capital Region International Airport oGreater Lansing Visitor Center oLansing Center
And plenty of other places around town
Even the Chicago Amtrak station
And, were excited that well be launching a swingin interactive iPad and Android version soon, too. So if you want your official 2012 Greater Lansing Visitor Guide, you can just request it at www.lansing.org and well mail it to you. I hope you like it. And if you dont, be kind. As you must know, every baby is beautiful.