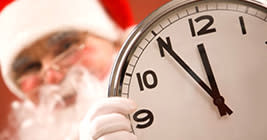 Well this is it. Were in the stretch run to the day that receives more planning and preparation than any other day of the year. Christmas 2015 is almost here. Are you ready? If youre like most, you still have some last minute shopping to do, hopefully it isnt much. Because shopping at the 11th hour can be stressful however, I have some tips that you may want to keep in mind. Eight tips, just like Santas eight tiny reindeer! (okay, I couldnt think of 10)
1. Stop beating yourself up for not getting this done sooner. As they say, it is what it is. Yes, this would have been easier if you had just done it online a month ago, but you didnt! Move on.
2. Have a battle plan. Dont go into a shopping war zone with some vague idea of what you need to pick up. Make a list of what you need to get and who sells it. Go there, get it and get out. There is no time for a soft pretzel right now.
3. Be smart. Think about how much crowded shopping you can handle and plan accordingly. If you have a low tolerance for crowds and nutty shoppers wearing Santa hats, maybe you want to avoid the crowded big box stores and go somewhere small, unique and less likely to be over-run with people. Youll also more likely get a cooler, special gift this way. I recommend Old Town, or downtown East Lansing.
4. These are tokens you are shopping for, not actual representations of the love you have for whomever youre shopping for. If someone is sold out of an item you were planning on buying, dont freak out. There is always more than one way to skin a reindeer. Think of something else and move on.
5. Consider going a more non-traditional route with gifts. For example, a gift card to a restaurant is extremely easy to buy; there arent lines for the cashier, size or style problems to deal with or anything. Gift cards to Lansing restaurants gives a friend or loved one a nice night out, which is rare for some. This may not work with your kids or wife, but its perfect for your parent, or a sibling, friend, what have you. Movie theater gift cards are an awesome gift!
6. Greater Lansing has three nice malls that have a lot of great offerings. Head to them early, so that if you need to head to another mall you can do it with time to spare. Meridian Mall in Okemos, Lansing Mall on Lansings west side and the Eastwood Towne Center on Lake Lansing Road in Lansing Township are the three flag-ship spots to hit. Put on your big boy pants and dive in. Welcome to American commerce.
7. Be nice to the employees you deal with. You think you hate last-minute shopping? How do you think they feel?
8. Be okay with being done! You can always think of one last little thing. Either for little Jimmys stocking or one more thing under the tree for little Sally, or a new collar for your dog. Let it go. The day may not be perfect, but it will be a lot more fun if youre not run down and crabby from running all over town and spending every last dollar you have. Im saying, save some energy to actually enjoy the day, dont run yourself into the ground planning for it.
Well thats it. Hope that helps. Last minute Christmas shopping is tough, but it can be licked, just have the right mind-set. Ready? Set? GO!