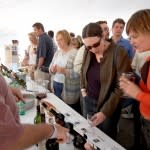 I have to say that I think June may be my all-time favorite month. The days are warm, the nights are cool and those breezy warm days seem to last soooo long. I swear I hear birds tweeting good morning at 4:30 a.m. and then after a long day, and when Im brushing my teeth before bed, its hard to believe that its still light outside. (Hey don't judge me. I go to bed early) Believe me, Im not complaining. It is in stark contrast to those dreary cold winter days when we all go to work in the dark and drive home in the dark, right? June is the month when its strawberry picking time. Baseball bats are swinging and free local concerts in the parks keep our toes tapping almost every evening. Picnics, patio dining, car shows and cruise-ins abound. Whats not to love about June? June is when festival season is in full swing. And here in the capital region, theres a festival for just about everything.
So what better way to celebrate the longest day and the shortest night of the year than hitting up Festival of the Moon this Friday night and Festival of the Sun on Saturday??? Located in the heart of Old Town, you can find great Bells beers, wine-tasting, good local food and great music. Oh, and did I mention its just a ton of fun? While youre there, check out the results of the Scrapfest competition. See what groups of artists have assembled and created from their hour-long scavenging at Friedlands scrap yard at the beginning of the month. Vote for your favorite and bid on a one-of-a-kind piece of art to take home.
Festival of the Moon tickets are just $12 in advance or $15 at the gate. Festival of the Sun tickets are just $17 in advance or $20 at the gate. For the best value, try our $25 weekend pass to both festivals. Must be 21+ to enter. Festival of the Sun and Festival of the Moon are located at Turner St. and Grand River Ave. in Lansing's Old Town.
Add to that a ton of other festival options this weekend. Check out our festival calendar or my weekly podcast to keep you updated. This weekend alone theres the East Lansing Summer Solstice Jazz Festival, Grand Ledge Yankee Doodle Days, Eaton Rapids Dam Festival, Williamston Red Cedar Jubilee and so much more. Whew! I think I may need to find more hours in the day.