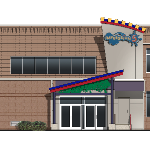 One of Lansings favorite family attractions is getting a well-deserved face lift. Impression 5 Science Center has made its home at the foot of Museum Drive. Tucked off of Michigan Avenue and adjacent to the Lansing River Trail this hands-on science center has been a source of engagement, wonder and delight for all generations of families since 1972. With a visitor rate of 100,000 per year, Impression 5 has grown and expanded and updated consistently under the direction of Erik Larson and his innovative and industrious team. With a tagline of Play, Create, Challenge! this center has done just that.
But what I wanted to let you know is that there are big things happening soon. If youve been to Impression 5 in recent years, youve seen some fabulous changes. The very cool First Impression Room replaced some not-so-fun classroom space and introduced the youngest learners (ages birth to 5) to the discovery of science with miniature water tables, tactile learning surfaces, climbing structures and so much more. I love the build zone and the MI Nature interactive exhibit, but I think what blew my socks off was the latest unveiling of Spectrum, the new lights and colors room. Kids and adults alike agree that this is the coolest. The exhibits are the heart and soul of Impression 5, but the body and framework and exterior are going to undergo some changes after this weekend.
Beginning September 1 and through September 22, the center will be closed to the public. They are building two new entrances to create barrier-free access throughout the building. The new riverside and north-side entrances will allow guests to access a Guest Services area on the first floor. They will completely reconstruct the existing stairway, elevator ramp, and build a new riverside entrance that will allow natural light into the main floor lobby space. We cant wait to see what that looks like!
Stay tuned. This is a beautifully evolving attraction that is getting better than ever each year. Were told they have even more fun stuff on the horizon and we know youll be delighted.