Sweetie-licious Bakery Café has become a household name, what with all the national pie championships, MLive recognition as Michigan's Best Pie and an appearance on the Today show. But some of the pie shop's oldest customers don't call it that.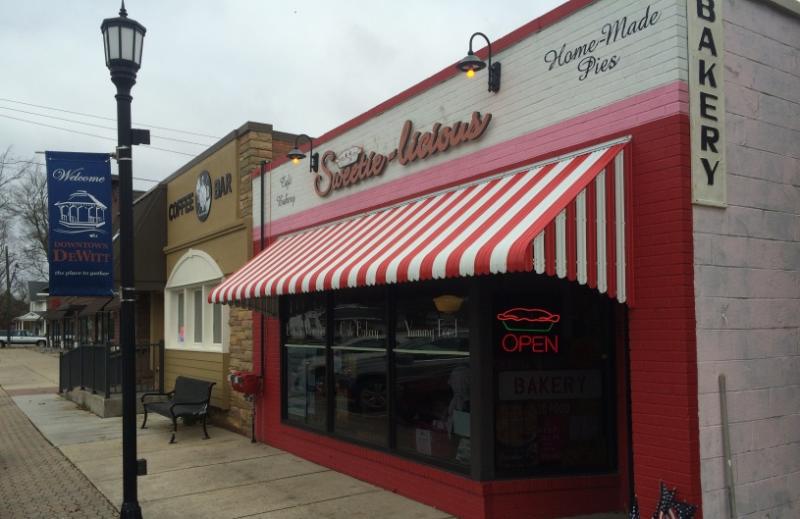 They still know the small-town bakery at 108 N. Bridge St. in DeWitt by its original name: Sweetie Pie.
To make a long story short, a pizzeria in Kentucky already had rights to the Sweetie Pie name so owner Linda Hundt had to come up with a new one. Funny thing is, if the old-timers aren't calling it Sweetie Pie, then they're now calling it Sweetie-de-licious!
Which is entirely appropriate.
Come visit the world's cutest little pie shop and taste for yourself. While you're in town, be sure to check out these other tasty holiday treats from around the capitol city: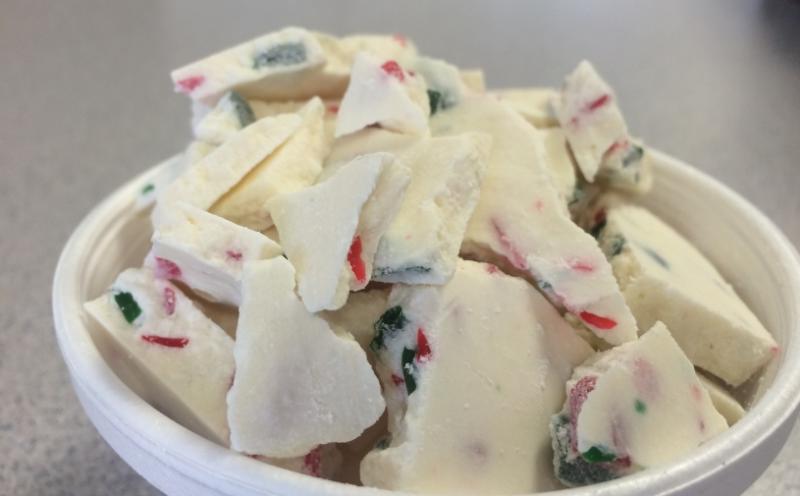 People come from around the state to pick up 5-pound sacks of chocolate coating and 8-ounce bags of red and green peppermint chips from this bakery at 412 Elmwood Rd. in Delta Township, just west of Lansing. When you mix 'em together – a quarter-pound of chips for every pound of chocolate – you get peppermint bark, which tastes like it was harvested by Mr. Mint in Candyland's Peppermint Forest. If you're not quite sure how to make the bark, Cakes-a-Bloomin' has melting instructions for you.
2. Decorated cookie cake at Sugar Shack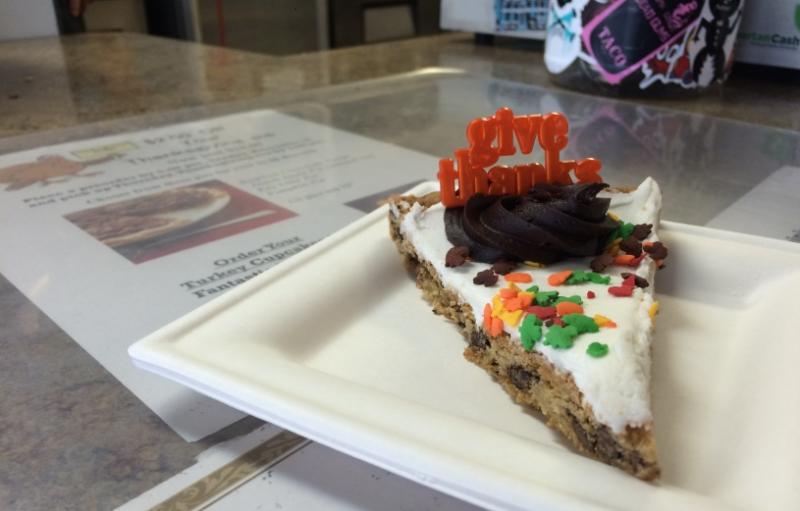 Imagine a 14-inch pizza with a chocolate chip cookie crust. Then, instead of pizza sauce and cheese, the topping can be whatever frosting you want. "We can decorate anything," says Darek Makhoul, owner of the bakery at 215 N. Clippert St. in Lansing. The giant cookie cake is great for birthdays, tailgating and, of course, holiday parties. If you want to stuff your face with Santa's face, no problem. Sugar Shack makes littler sugar cookies, too, decorated with stars, trees, bells and other images of the season. Plus, holidays or not, you simply must sample the bakery's raw, edible cookie dough in a cone.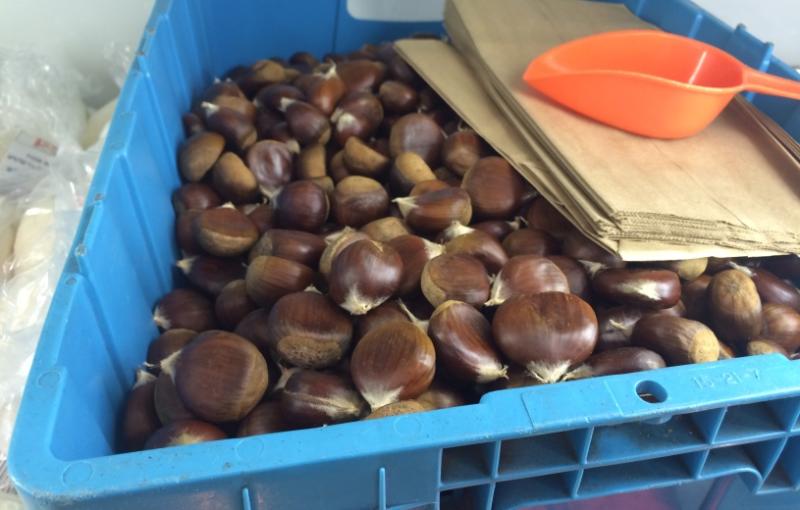 Christmas cookies? Check. Pies? Yup. You can get those goodies at Roma Bakery, plus much more. The deli grocery at 428 N. Cedar St. near downtown Lansing stocks a ton of unique items that can add a special touch to your holiday celebrations. Try the baklava or partake in panettone, a cake-like bread that's an Italian holiday tradition. The bakery also serves up popular holiday breads like cloverleaf and cornetti rolls. And, though it doesn't come with an open fire, you can pick up fresh chestnuts to celebrate Christmas like Nat King Cole.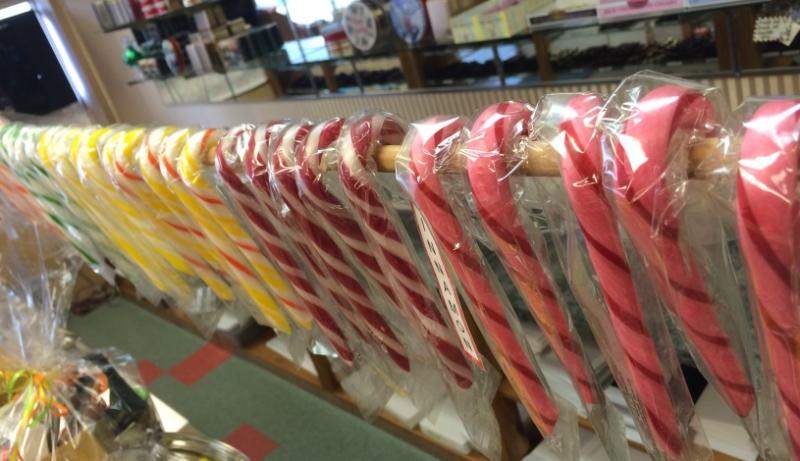 If you're already sick of candy canes this holiday season, then open your taste buds to all the flavors at Fabiano's. The candy store at 1427 E. Michigan Ave. on Lansing's east side has many more choices than the classic red-and-white peppermint canes. Have you ever tried a cinnamon candy cane? Wintergreen? Spearmint? If chocolate is more your thing, get your fill with Fabiano's solid chocolate molds of Santa. You can even get a tree-shaped box of truffles with the box itself made of chocolate! And don't forget the pretzel rods, malt balls, jingle bell jells, sugar plums, reindeer corn, sour Santas and more holiday-themed sweets.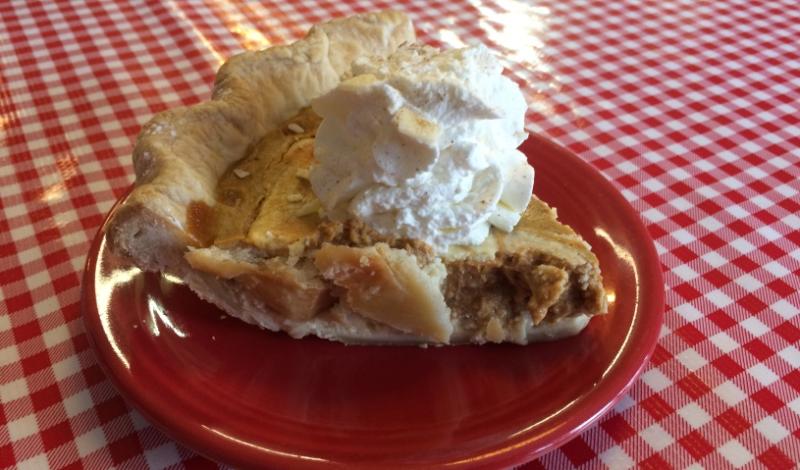 You might like the caramel apple pie better, but I'm partial to pumpkin so this swirl of pumpkin and cheesecake scores a 10 for me. A dollop of whipped cream on top with nutmeg sprinkles and white chocolate chips is to die for. And if you're a little nutty, you can get it with praline pecans. It tastes delicious, and the atmosphere in the original Sweetie-licious – or, Sweetie Pie, if you prefer – makes it even better. Pink tiles cover the floor and vintage décor including blue ribbons from competitions and a photo of Hundt on "The Steve Harvey Show," where she won a golden spatula, cover the walls.
A few more recommendations: pumpkin dream cake with cinnamon mousse and buttercream frosting at Bake N' Cakes, 3003 E. Kalamazoo St. in Lansing; perfect pumpkin whoopie pies at Sweetie-licious; caramel apple donut at Glazed & Confused, 107 S. Washington Square in Lansing and 1595 W. Lake Lansing Rd. in East Lansing; homemade stuffing at Roma; almond toffee at Fabiano's; gingerbread people at Sugar Shack; caramel corn at Cakes-a-Bloomin'; yule log at Whipped Bakery, 216 S. Washington Square downtown.