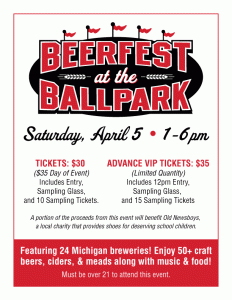 I know that everyone was super-geeked about heading to the big D and taking in a perfect weather opening day for the Tigers earlier this week. Its been a long, hard, cold winter and nothing says SPRING like when baseball rolls around. So its with a Michigan grain of salt (in-the-wound) that spring can be either beautiful on one day and cold and nasty on another. But we Michiganders can take it, right? After this winter, anything above 9 degrees Fahrenheit is a check mark on the plus side. And what goes together with baseball? BEER. And who likes beer? WE DO!
So a great idea for this chilly (with no precipitation) Saturday is to head to Cooley Law School Stadium for Beerfest at the Ballpark. Its running 1-6 p.m. with 33 Michigan breweries serving over 150 beers. Find Shorts and Founders, Bells and our local microbreweries EagleMonk and BAD Brewing and plenty more. No, theres not a ball game going on, but the ballpark setting is perfect.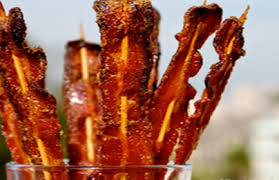 Most times its baseball with a beer. This is beer. At the ballpark. And theres food too. Whats that? Bacon on a stick? Deep fried? With a maple glaze? Seriously, it sounds fabulous. But wait.Theres mashed potatoes and pulled pork parfaits. Yep, thats right. Oh, wait. Theres gravy that goes with that, too. Along with the regular fare at the ballpark like giant turkey legs, ribs, burgers and dogs, you cant go wrong in my books.
My pick for this weekend? Head over to Beerfest at the Ballpark. Its a home run.
What: Beerfest at the Ballpark
Where: Cooley Law School Stadium 505 E. Michigan Ave., Lansing.
When: Saturday, April 5, 2014 1-6 p.m.
Cost: Advance Tickets: $30 (save $5) Logo Tasting Glass, 10 Tasting Tickets - 3oz each Advance VIP Tickets: $35 (Exclusive First 500) SOLD OUT Early NOON Entry, Logo Tasting Glass, 15 Tasting Tickets - 3oz each Tickets at Gate if Festival is Not Soldout: $35 Logo Tasting Glass, 10 Tasting Tickets - 3oz each Designated Driver Tickets: $5 Purchased at the gate, Includes Entry and Unlimited Fountain Drink
* Entry to the Festival, Logo Tasting Glass, 10 Tasting Tickets - each tasting ticket is redeemable for a 3oz pour of one of the 100+ beer, cider or mead selections (please note that some beers are specialty beers or contain higher ABV and may require additional tickets). Additional tickets will be available for purchase at the festival.
This is a Rain or Shine Event and tickets are not refundable.